Bike program needs warehouse space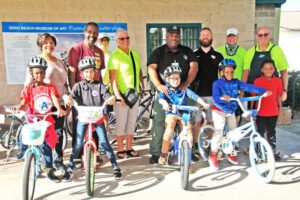 VERO BEACH - An innovative program that distributes free bikes to adults and children is in danger due to lack of warehouse space.
The Bike Rehab Project was started about eight years ago by Malcolm Allen, owner of Orchid Island Bikes and Kayaks, and Deputy Teddy Floyd from the Sheriff's Office.
"Deputy Floyd approached me and asked for a quote to repair a bunch of kids' bikes that were donated to him that he wanted to give out to needy kids at Christmas," Mr. Allen said. "I told him OIBK would cover 100% of the cost for the repairs. Thus began an annual tradition of Teddy bringing bikes and then handing them out after our lead bike technician got them back in working order."
To read full article, click here.