United Against Poverty Looking Forward to Hosting "Build Your Future" Career Expo on March 9th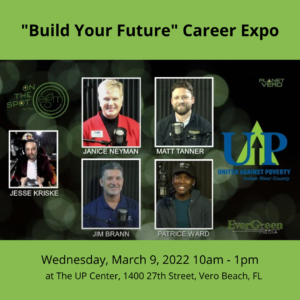 United Against Poverty serves those in poverty by providing crisis care, case management, transformative education, food and household subsidy, employment training and placement, personal empowerment training and active referrals to other collaborative social service providers. The organization collaborates with local organizations such as the Treasure Coast Builder's Association and The Porch Factory to help their clients experience quality employment with quality businesses. United Against Poverty will hold a "Build Your Future" Career Expo for any person seeking career opportunities to join the trades industry by meeting potential employers. The Career Expo will be open to the community and will be held on March 9, 2022 at UP Center (1400 27th Street in Vero Beach) from 10am - 1pm.
Janice Neyman (Treasure Coast Builder's Association), Jim Brann (The Porch Factory), Matt Tanner (United Against Poverty), and Patrice Ward (Build UP Participant) appeared on Jesse Kriske's show "On the Spot" to explain how they work together to provide paid training and career opportunities to local talented individuals.