Community Foundation Awards $50,000 to Help Kids, Working Families Get Back to Summer, Work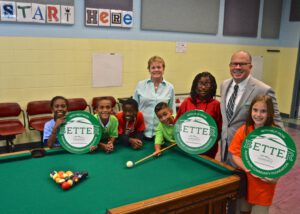 (Vero Beach, Fla. – May 28, 2020) Indian River Community Foundation recently awarded grants totaling $50,000 to nonprofit charitable organizations to support summer camp and childcare expenses being provided primarily to essential workers, first responders, and other low income families affected by the COVID-19 health crisis in Indian River County. The grants were awarded from the IRCF COVID-19 Fund.
One of the grants was awarded for $25,000 to the Boys & Girls Club of Indian River County. It will support their summer program this year, which provides care for children of essential workers in our community.
The other grant was awarded for $25,000 to the Gifford Youth Achievement Center. It will support GYAC's Walter M. Jackson summer camp, which is available to local children on a first come, first serve basis.
"Community Foundation clients have already awarded more than $500,000 in response to COVID-19 relief, which includes support for the United Way's Community Response Fund," said Foundation Coordinator Frida Flores. "These two grants were awarded in recognition of the hard work that these two trusted charities are putting in to help kids and families get back to some type of 'normal' summer while their parents return to work."
Indian River Community Foundation was established in 2008 with a mission of building a better community through donor-driven philanthropy. With assets of $70 million in 175 charitable giving accounts, the Community Foundation and its clients have awarded more than $70 million in grants, mostly to nonprofit charitable organizations located in Indian River County, Florida. Visit www.ircommunityfoundation.org to learn more.