Community Foundation Awards $50,000 to United Against Poverty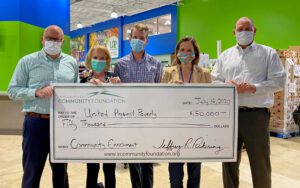 Indian River Community Foundation recently awarded four grants totaling $177,000 from its Community Enrichment Fund to local charities. The grants were reviewed by a Grants Committee comprised of volunteers Scott Alexander, Dale Jacobs, Louis Schacht, Sandy Rolf and Larry Salustro.
One grant for $50,000 was awarded to United Against Poverty ("UP") for programs serving vulnerable individuals and families in the community. With more than 50 percent of Indian River County households living either in poverty or one paycheck away from it, UP's programs are dedicated to inspiring and empowering people to lift themselves out of poverty and their families to economic self-sufficiency.
"UP's four core programs include a Member Share Grocery, Crisis Stabilization, Education, and Workforce Development," said executive director Annabel Robertson. "They are designed together to create a support network that helps participants with a "hand up" as they embark on a path towards success."
"We are extremely grateful for the Community Foundation's support of these critical programs," said Barbara Lowry, UP's Board Chair.  "It will help so many people in need to get to a better place in life."
While most of the Community Foundation's grants are awarded by clients through donor advised funds, Indian River Community Foundation's competitive grant program is made possible through the generosity of anonymous donors to several grantmaking funds, including the Community Enrichment Fund and the Better Giving Fund. These resources support the Community Foundation's mission of building a better community through donor-driven philanthropy.
Indian River Community Foundation was established in 2008 with a mission of building a better community through donor-driven philanthropy. With assets of $72 million in 175 charitable giving accounts, the Community Foundation and its clients have awarded more than $70 million in grants, mostly to nonprofit charitable organizations located in Indian River County, Florida. Visit www.ircommunityfoundation.org to learn more.