Community Foundation Awards Ten Grants Totaling $425,000 to Local Charities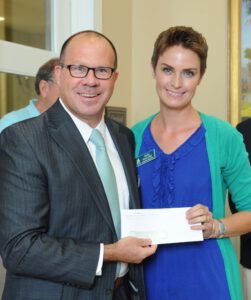 (Vero Beach, Fla. – May 18, 2016) Indian River Community Foundation awarded discretionary grants totaling $425,000 to 10 local nonprofit charitable organizations from its 2016 discretionary grants cycle. The grants were reviewed by a volunteer Grants Committee chaired by Lenora Ritchie that included Chuck Ball, Bob Burr, Ron Edwards, Maureen Lee, Matt McManus, Sandy Rolf, and Jennifer Watson, and approved by the Community Foundation's Board of Directors.
"In our brief eight year history, Indian River Community Foundation is quickly becoming one of the most knowledgeable and effective grantmaking foundations in the region," said Jeff Pickering, President and CEO. "A number of our clients value this work, and have contributed generously to support the Community Foundation's discretionary grantmaking. We use this philanthropic capital that is entrusted to us to find, fund and follow effective charitable investments that make our Indian River County community better."
Seven grants were awarded from the Community Foundation's Community Enrichment Fund to address needs in the areas of education, environment or historic preservation as well as needs of vulnerable individuals, families and animals. The following grants were awarded:
• Environmental Learning Center -- $49,947 for capital improvements to the organization's campus to increase access to therapeutic nature contact for people with disabilities.
• Big Brothers Big Sisters of St. Lucie, Indian River and Okeechobee Counties -- $46,694 for the Family Links to Learning program.
• Ocean Research and Conservation Association (ORCA) -- $46,000 to fund devices that will be used to rank muck inputs into the Indian River Lagoon in Indian River County.
• The Learning Alliance -- $44,060 for the Conscious Discipline program.
• Youth Guidance -- $28,032 for the organization's expansion of a sports mentoring program into south Indian River County.
• McKee Botanical Garden -- $18,695 to provide new electrical panels and outlets throughout the campus.
• Economic Opportunities Council of Indian River County – $16,582 to support the REACH family self-sufficiency program.
Three grants were awarded from the Community Foundation's Unrestricted Fund to support programs and projects that align with Indian River County's "Moonshot Moment" goal to have 90 percent of all third grade students reading on grade level by 2018. The following grants were awarded:
• The Learning Alliance -- $100,000 to expand the Moonshot Academy program to Beachland Elementary and Vero Beach Elementary.
• Childcare Resources of Indian River -- $68,675 for professional development for early educators.
• United Way of Indian River County / Kindergarten Readiness Collaborative -- $16,730 for the 2017 Pre-K Party and Kindergarten Round-Up.
"This is a community where some of our neighbors continue to experience extreme poverty, where a large number of our students cannot read and where some of our waterways face irreversible damage," said Scott Alexander, Chairman of the Board of Directors. "Many of the community foundation's donors have a heart for changing these conditions, and I believe this year's discretionary grants will make a difference."
"I am grateful for the generosity of our donors, the dedicated service of our Grants Committee and for the thoughtful leadership of our Board of Directors in supporting these important programs and projects," said Pickering. "Our community is definitely better with this help from Indian River Community Foundation."
Indian River Community Foundation is a vibrant nonprofit enterprise with a powerfully simple mission of building a better community through donor-driven philanthropy. Since its establishment in 2008, the community foundation and its donors have awarded more than $35 million in grants mostly to nonprofit charitable organizations located in Indian River County, Florida. For more information visit www.ircommunityfoundation.org.