IRCF Awards The Hope for Families Center $50,000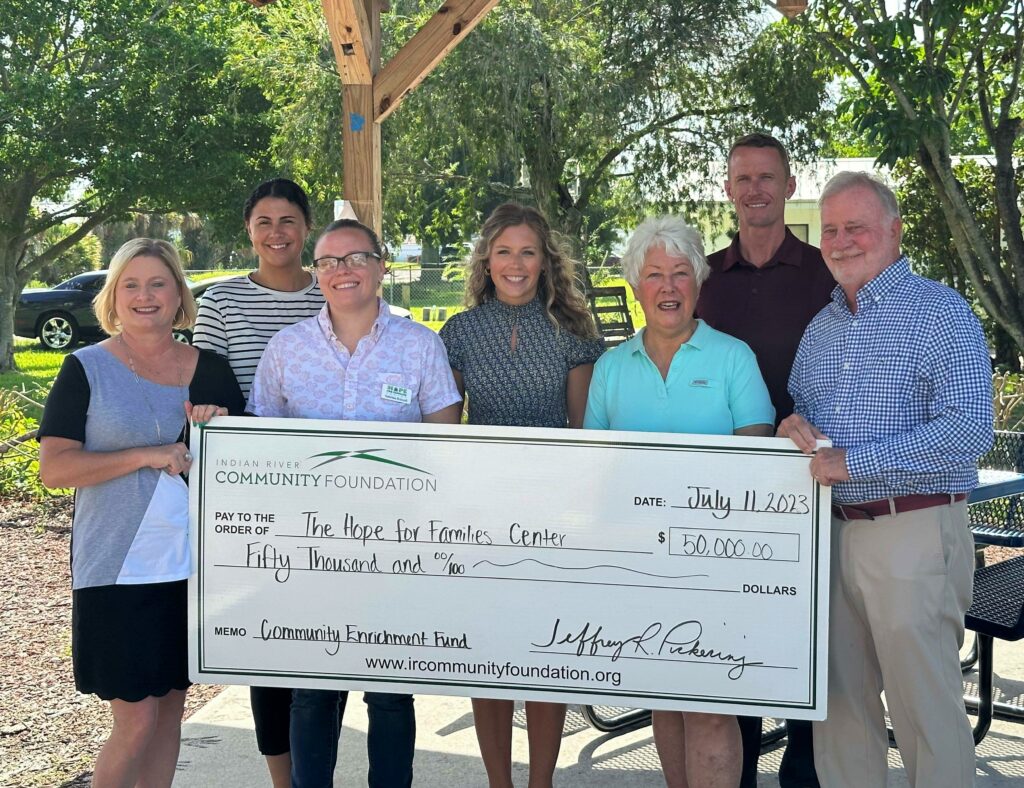 For over 30 years, The Hope for Families Center (HFC) has been an integral part of improving the lives of families in crisis. This organization values the family and often helps break the cycle of generational poverty and homelessness. Indian River Community Foundation recently awarded HFC $50,000 from the Community Enrichment Fund to support their shelter program.
The Hope for Families Center shelter program promotes stability, dignity, and self-reliance by teaching homeless families the habits and routines they need to thrive. The program targets homeless families in our community. Residents are provided with shelter, food, financial literacy courses which results in job placement, creating a family budget, and saving 75% of their income with the goal of finding affordable housing when available. Children are placed in nearby schools or daycare where their school attendance and progress is tracked. Children also participate in after-school programs, as well as summer and winter camps. The environment is safe, structured and stable to help families reestablish their independence.
The Hope for Families Center is also a part of our Endowment Partners Program (EPP). The purpose of the EPP is to help local charities plan for their long-term sustainability by growing a permanent endowment fund. During a 12-month program, participants learn about endowments, planned giving, investment management and marketing solutions that inspire loyal donors to make planned gifts from their estates. The program is coordinated by IRCF team member Yamilet Cendejas.
Indian River Community Foundation's discretionary grantmaking is aligned with a vision of a more healthy, prosperous, and generous Indian River County community. Grantmaking priorities are informed by the findings of the most recent community needs assessment and the most current data and information collected on Indian River Indicators. Grants from the Community Enrichment Fund are reviewed by a Grants Committee comprised of volunteers Suzanne Bertman, Pat Brier, Toni Hamner, Dale Jacobs, Wanda Lincoln, Dawn Michael, and Angelia Perry.
IRCF holds monthly informational sessions for nonprofit 501(c)(3) organizations serving Indian River County who are interested in applying for a competitive grant. If interested, please call 772.492.1407 or email Brooke Sauserman to reserve your spot. Please read our Guidelines before registering.