Community Foundation Earns 2022 Platinum Seal of Transparency on their Nonprofit Profile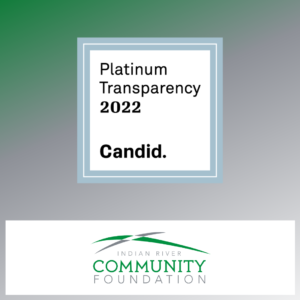 Indian River Community Foundation has updated their Nonprofit Profile to earn the 2022 Platinum Seal of Transparency.
The nonprofit Candid (formerly Guidestar) profile is a tool for sharing your organization's story and building trust and demonstrating transparency. The profiles are categorized into four levels in seals of transparency. Each seal is a signal for allowing your profile to become more and more rich with information. The Bronze seal is basic information so donors can find you, the Silver seal is brand details to guide funding decisions, the Gold seal is financial and leadership information to gain trust and support, the Platinum seal is goals and a measurement of results to highlight your impact.
Candid's recent webinar explains how the nonprofit profile works, how to access it, how to earn a seal, and how to use it to fundraise for your organization. This webinar is for new, intermediate and expert staff who work with Candid to update their nonprofit profile. For new organizations, this webinar will provide steps to claim and update your nonprofit profile; for intermediate and expert organizations, the webinar speaks to the updated 2022 Seals criteria.