Community Foundation Endowment Partners Program will Support, Sustain Local Charities for Years to Come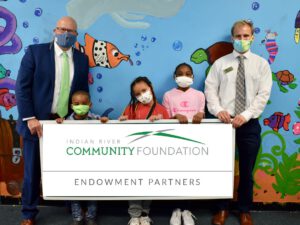 Indian River Community Foundation welcomed a new class of local nonprofit charitable organizations to its Endowment Partners Program (EPP) on July 1, 2021. Participating organizations include Indian River Golf Foundation, Mental Health Association, Senior Resource Association, Vero Beach Rowing, We Care Foundation of Indian River, and Youth Guidance Mentoring Academy.
The purpose of the EPP is to help local charities plan for their long-term sustainability by growing a permanent endowment fund. During the 12-month program, participants will learn about endowments, planned giving, investment management and marketing solutions that inspire loyal donors to make planned gifts from their estates. The program is coordinated by IRCF team member Yamilet Cendejas.
This year's class joins nine additional local charities who recently completed the first year of the EPP. Over the past year, the following organizations each established an endowment fund, completed training and grew assets from both investments and planned gifts: Alzheimer and Parkinson Association of Indian River County, Big Brothers Big Sisters of St. Lucie, Indian River, & Okeechobee Counties, Childcare Resources of Indian River, Education Foundation of Indian River County, The Hope for Families Center, Indian River County Healthy Start Coalition, The Learning Alliance, Vero Beach Opera, and Youth Sailing Foundation of Indian River County.
"Planned gifts from Indian River County households represent the single largest pool of untapped potential resources to support the missions and programs of these important local charities," said Yamilet Cendejas. "We are honored to serve each of these organizations as a partner in their long-term sustainability."
Indian River Community Foundation was established in 2008 with a mission of building a better community through donor-driven philanthropy.  With assets of approximately $90 million in 200 charitable giving accounts, the Community Foundation and its clients have awarded more than $80 million in grants to nonprofit charitable organizations in Indian River County, Florida and around the world. Visit www.ircommunityfoundation.org to learn more.
To learn more about how charitable bequests could be the key to crisis management, check out this article originally posted in Forbes.