Community Foundation Grants $100,000 to Treasure Coast Food Bank's Mobile Mercado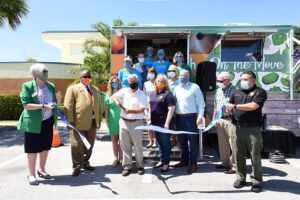 In June 2020, Indian River Community Foundation granted $100,000 from its Community Enrichment Fund to the Treasure Coast Food Bank for the acquisition and outfit of the Mobile Mercado. The Mobile Mercado is set to carry out the Treasure Coast Food Bank's mission to alleviate hunger by obtaining and distributing food and other essentials in Indian River, Martin, St. Lucie, and Okeechobee Counties. The Mercado, a fully-outfitted "grocery store on wheels," will distribute food in designated food deserts throughout Indian River County. In its first year of service, the organization aims to serve more than 200,000 meals through their Mercado. The program was made possible with grants from Indian River Impact 100, Indian River Community Foundation, and the John's Island Foundation.
Indian River Community Foundation was established in 2008 with a mission of building a better community through donor-driven philanthropy.  With assets of approximately $82 million in 185 charitable giving accounts, the Community Foundation and its clients have awarded more than $80 million in grants, mostly to nonprofit charitable organizations located in Indian River County, Florida.  Visit www.ircommunityfoundation.org to learn more.