Community Foundation Philanthropy Rises as COVID-19 Spreads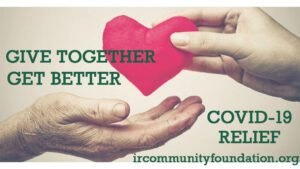 A recent article in the New York Times details the increase of donors using their donor advised funds to help charities and individuals affected by the Coronavirus pandemic. The article quotes several studies that have found a monumental increase in donations from community foundations in response to the recent pandemic.
Indian River Community Foundation has also increased funds distributed to local nonprofit organizations in a similar fashion. While most of these funds are sent directly to local charitable organizations serving vulnerable families and individuals, other funds are being sent to the United Way of IRC's COVID-19 Community Response Fund.
The COVID-19 Community Response Fund has raised almost $1.5 million dollars, reached 27,000 households, and provided almost 2 million pounds of food. As of June 26th, the fund has distributed $1,139,500 to the following local nonprofits:
211
The Buggy Bunch
Camp Haven
CareBag
CareNet Pregnancy Center
ChildCare Scholarships
Children's Home Society
Economic Opportunities Council
Food Pantry of IRC
For the Love of Paws
Freedom Journey
Gifford Youth Orchestra
Gift Cards
Halo No-Kill Rescue
Heal the Healers
Health Mart and Whole Family Pharmacy
Healthy Start Coalition
Hibiscus Children's Center
Hope for Families Center
Humane Society of IRC
Moonshot Moment
Prescriptions (TCCH, VNA, Whole Family, CCIRC)
RCMA
Salvation Army of IRC
Senior Resource Association
St. Helens/ UP
The Source
TC Food Bank
TC Homeless Services Council
Treasure Coast Food Bank
Tykes and Teens
United Against Poverty
Veteran's Council of IRC
If You Have Not Done So Already, Here's How You Can Help
Make 2020 charitable distributions from donor advised funds to local charities now.
Make a gift to the United Way's COVID-19 Community Response Fund now.
Make a significant gift to save or sustain a specific charitable organization, especially one serving vulnerable individuals and families.
Please click here to read the entire New York Times article (PDF version)