Community Foundation Strengthens Operations, Deepens Commitment to Effective Philanthropy with New Vice President, Heather O'Shea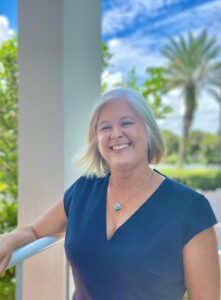 After fifteen years of continued growth and excellent service to clients and the community, Indian River Community Foundation is strengthening its operations and deepening its commitment to practicing more data-driven, effective philanthropy by welcoming Heather O'Shea as its new Vice President. O'Shea begins her tenure in September and will join a high-functioning team of philanthropy professionals led by chief executive officer, Jeff Pickering.
One of O'Shea's first assignments will be to lead optimization of the organization's accounting, finance, and investment operations in expectation of significant growth in assets in the coming years.
"With assets approaching $100 million soon, and at least another $100 million in planned gifts from members of our Alma Lee Loy Legacy Society, Heather's leadership will help to ensure that our clients and nonprofit partners continue to experience excellent service into the future," says Jeff Pickering, president and CEO. "Heather's background and experience in operations at Baxter Healthcare Corporation and Robert Half International, combined with senior leadership responsibilities at an independent day school in Albuquerque, New Mexico, make her a perfect fit for this new role."
Another significant assignment will be to oversee the collection, curation, publication, and distribution of all data, information, insights, and analysis related to the Community Foundation's philanthropic response to community needs and related opportunities. O'Shea's capacity to succeed in this effort will build on her most recent experience as editor in chief of Vero Beach Magazine.
"In recent years, the Community Foundation has invested substantial resources to develop tools and resources to help us and our clients to take a data-driven approach and practice more effective philanthropy," Pickering continues. "Heather will lead efforts to put this data and information in the hands of local donors and decision makers who want to make the most impact with charitable dollars and other public resources."
O'Shea holds bachelor's degrees in English, economics, and theology from the University of Notre Dame, and completed both an executive MBA and a PhD in literature at the University of New Mexico. A Pittsburgh native, Heather and her husband Fred Gordon moved to Vero Beach in 2018 and can't imagine calling anywhere else home.