Community Foundation to Aid Restoration of Historic Building, Home of Vero Beach Woman's Club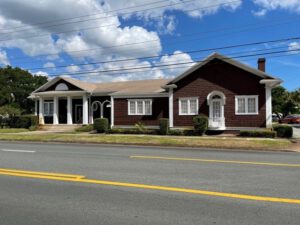 Indian River Community Foundation is excited to announce the establishment of the Vero Beach Woman's Club Restoration Fund. The Restoration Fund will be used to collect charitable donations for expenses associated with the restoration of the historic building owned by the Vero Beach Woman's Club and located at 1534 21st Street in downtown Vero Beach. The building was built in 1915 and remains one of the oldest buildings in Vero Beach. It is listed on the National Register of Historic Places in recognition of its age and importance to the history of Vero Beach.
Since its inception, the Vero Beach Woman's Club operated for many decades as a vibrant organization delivering educational programs and social opportunities to women throughout the Vero Beach community. In recent years, however, leadership transitions and a waning membership have resulted in the organization's decline and the building's poor current state.
A committee of community leaders, led by Gail Alexander, Ali Schlitt, Iliana Malaret and Charlotte Terry, has organized an effort to reinvigorate the Woman's Club and re-establish the organization as an IRS 501(c)(3) public charity. The committee has also engaged John Binkley as the architect and Proctor Construction as the general contractor. Recommendations have been made to restore, repair or replace the building's roof, electrical components, interior and entryways. Additional improvements may include replacement of windows and doors.
Gail Alexander shared that the vision for the Vero Beach Woman's Club is "to build a diverse membership to enrich the lives of women through education and inspirational programs, while maintaining a charitable focus toward the community."
"Our goal is to preserve the Vero Beach Woman's Club's long history and historic building for future generations," added Charlotte Terry.
Community leader Scott Alexander will oversee the Restoration Fund's activity, which will include approval and monitoring of distributions. Scott Alexander is past Chairman of Indian River Community Foundation and recently retired as Regional President of Northern Trust.
"I'm honored that the Board of the Vero Beach Woman's Club has asked me to oversee the restoration of their historic building," said Scott Alexander. "It's a cultural treasure in Vero Beach that needs to be maintained for future generations of women in our community."
More information about making a charitable contribution to this important historic preservation project can be found by calling 772.492.1407 or visiting www.ircommunityfoundation.org and clicking "Give Now."
Indian River Community Foundation was established in 2008 with a mission of building a better community through donor-driven philanthropy.  With assets of approximately $82 million in 185 charitable giving accounts, the Community Foundation and its clients have awarded more than $80 million in grants, mostly to nonprofit charitable organizations located in Indian River County, Florida.  Visit www.ircommunityfoundation.org to learn more.
Please click here to read a news article about the Woman's Club in Your News.