Education Foundation Establishes Endowment at Community Foundation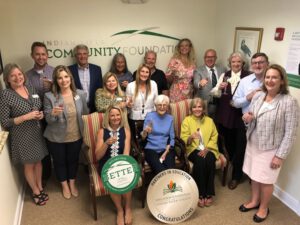 (Vero Beach, Fla.  – March 19, 2019) With contributions totaling more than $100,000 from Ann Tharpe and the Frances and Ronald Jaffe Foundation, the Education Foundation of Indian River County made a step toward long-term sustainability by establishing an endowment at Indian River Community Foundation.   These funds, along with other dollars raised from future outright and planned gifts, will be invested by the Community Foundation to support the mission and programs of the Education Foundation in perpetuity.
"This effort began in 2017, when Indian River Community Foundation awarded us a grant to help launch our 'Partners in Education' program," said Executive Director, Cynthia Falardeau.  "While Partners in Education was originally started to give local businesses a meaningful connection to our work, generous individuals and families quickly joined which led to a conversation about the long-term needs of our schools." 
"One of the first philanthropists to join the Partners in Education program was Ann Tharpe designating their contribution to start an endowment," said Board President, Cathy Filusch.  "Another significant gift followed from the Frances and Ronald Jaffe Foundation, and after a thoughtful discussion by our board of directors, we selected the Community Foundation as our partner."      
"Only about 10 percent of Indian River County's nonprofit charitable organizations hold more than 12 months-worth of savings on their balance sheets, leaving most in a fragile financial position" said Jeff Pickering, the Community Foundation's President and CEO.  "By establishing an agency endowment fund with Indian River Community Foundation, the Education Foundation of Indian River County has made a conscious choice to make long-term sustainability of its mission and programs a priority."
Other participants in the Community Foundation's Nonprofit Partners Program include Alzheimer and Parkinson Association of Indian River County, Big Brothers Big Sisters of St. Lucie, Indian River and Okeechobee Counties, Childcare Resources of Indian River, The Learning Alliance, Vero Beach Opera and Youth Sailing Foundation.
To learn more about supporting the Education Foundation of Indian River County with an outright contribution or a planned gift from your estate, visit www.edfoundationirc.org or call 772-564-0034.