IRCF Endowment Partners Program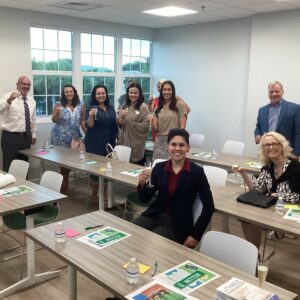 The purpose of the Foundation's Endowment Partners Program is to help local charities plan for long-term sustainability by growing a permanent endowment fund. The term "endowment" is broadly used to describe funds set aside for the long-term benefit of the nonprofit (rather than for current operations). While operating funds are generally invested in cash equivalents and short-term bonds to maximize current income, endowment funds are invested in equities and longer-term bonds to achieve growth and an increasing stream of income. Endowments signal a fiscally responsible, well-prepared and forward-looking institution.  They help to weather periods of economic decline, when annual giving recedes, and needs are heightened. 

During a 12-month program, participants learn about endowments, planned giving, investments, and marketing solutions with a goal of establishing endowments that will grow from prudent investment management and planned gifts. While the active program has a time frame, our partnership will continue so long as the endowment is held at IRCF. The program is coordinated by Indian River Community Foundation Director of Philanthropy, Yamilet Cendejas, with support from President and CEO, Jeff Pickering.
IRCF Endowment Partners:
Alzheimer/Parkinson Association of Indian River County, Inc
The Arc of Indian River Foundation
Big Brothers Big Sisters of St. Lucie, Indian River, & Okeechobee Counties
Childcare Resources of Indian River
Education Foundation of Indian River County
The Hope for Families Center
Indian River County Healthy Start Coalition
Indian River Golf Foundation
Literacy Services of Indian River County
Mental Health Association
Ocean Research and Conservation Association (ORCA)
Senior Resource Association
The Learning Alliance
Vero Beach Opera
Vero Beach Rowing
Youth Guidance Mentoring Academy
Youth Sailing Foundation of Indian River