EPP Spotlight: Vero Beach Opera
Vero Beach Opera has a mission to enrich the cultural lives of our community through fully staged professional opera productions, concerts and international vocal competitions of the highest quality which promote an increased awareness and deeper appreciation of opera to expanding and diverse audiences of all ages. Originally called the Vero Beach Opera Guild, the organization was started in 1988 by a group of friends at the home of Eloise Rodger. In present day, VBO continues to uphold their mission through a number of programs such as the Community Outreach Program, the Homestay Program, and the Scholarship Program.
Check out the schedule below to see what Vero Beach Opera has in store for the 2022 season!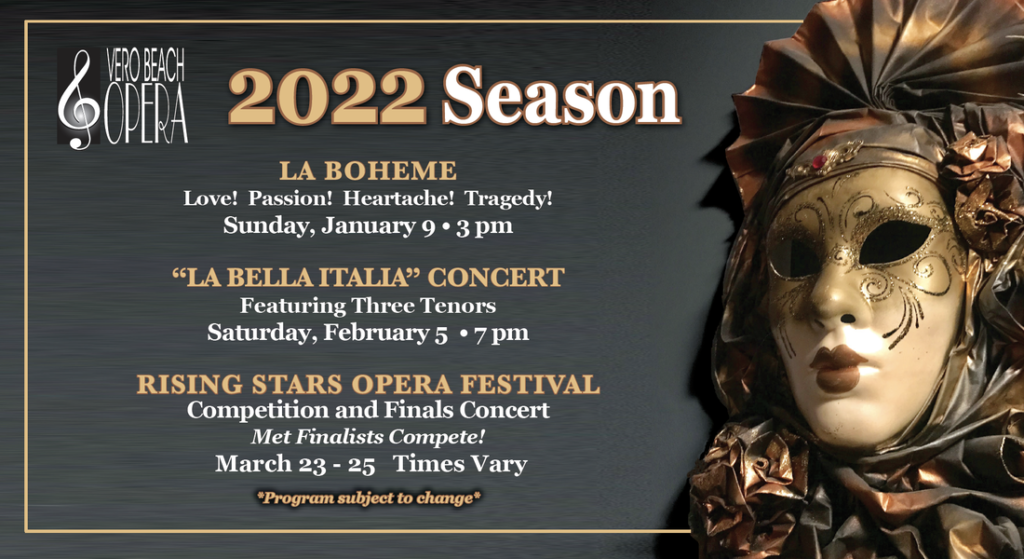 Vero Beach Opera is also a part of our Endowment Partners Program (EPP). The purpose of the EPP is to help local charities plan for their long-term sustainability by growing a permanent endowment fund. During a 12-month program, participants learn about endowments, planned giving, investment management and marketing solutions that inspire loyal donors to make planned gifts from their estates. The program is coordinated by IRCF team member Yamilet Cendejas.
To learn how to give outright contributions today or bequests and other planned gifts for future support, please see "Planned Giving: Leave a Legacy" under our "Giving" section or go to the Vero Beach Opera website.