Fellsmere Volunteer Clinic Opens at Operation Hope
Approximately 11% of adults in Indian River County do not have health insurance. This means that over 17,000 individuals may not receive the care they need and deserve. Recently, a free health clinic for uninsured people ages 18 to 64 opened at Operation Hope, a nonprofit organization dedicated to providing support, education, and other assistance to families in need.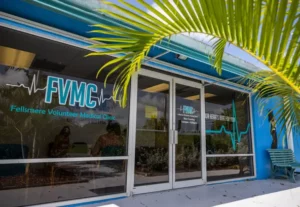 The Fellsmere Volunteer Medical Clinic, run by Dr. Fredy Delacruz, will see patients two half-days each week, and is open to low-income, uninsured residents seeking medical care. The clinic has two exam rooms, a waiting room, and a private office for consultations, and includes a part-time nurse and appointment secretary, who volunteer their time.
Jesse Zermeno, founder and president of Operation Hope, has been working to bring medical services to the many people he serves through his monthly food distributions, school supply giveaway and Thanksgiving food baskets.
Make an Appointment
The Fellsmere Volunteer Medical Clinic is open Monday from 9 a.m. to noon, and Wednesday from 1 to 4 p.m. at Operation Hope, 12285 Fellsmere Road.
Appointments are needed to make sure patients meet the financial parameters of the free program.
Patients can not have private insurance or Medicare or Medicaid, to be treated at the clinic. For more information, call 772-571-6250.
Weekly Insights works in conjunction with Indian River Indicators. Indian River Indicators was launched in June 2021 and originated after the completion of the 2019 Indian River Community Needs Assessment. It provides key data and information about our community that is updated annually and can be used to support and sustain proven programs. It can also be used by community leaders to develop policy, promote promising practices and inspire innovation that can lead to solutions to persistent community challenges. Indian River Community Foundation holds informational sessions on the first Tuesday of every month at 4pm via Zoom to introduce the community to this new resource. Please email Director of Philanthropy, Chiaka Nwosu at chiaka@ircommunityfoundation.org to attend a session.
To learn more visit www.ircommunityfoundation.org and click "Indian River Indicators" or contact a member of the Community Foundation's team at 772.492.1407.