Foundation one of the fastest growing in Florida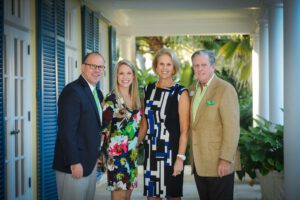 Indian River Community Foundation celebrates its eighth year of operation as it continues to help individuals and families carry out and organize their charitable giving. This celebration was hosted by Rick and Laura McDermott and sponsored by Northern Trust. The Foundation is one of the fastest growing despite it being one of the youngest community foundations. With the continued support of the founders and the individuals and families who have established accounts, we are building a better community through donor-driven philanthropy.
IRCF President/CEO Jeff Pickering thanked the individuals, families and organizations with established accounts, the 52 IRCF founders whose initial $1 million provided operating support, Warren Schwerin, who facilitated the foundation's move to new headquarters this past summer, his support team, Yamilet Cendejas and Jaci Ruppert, and the evening's sponsor, Northern Trust Bank.
Pickering said they try to teach their children that with privilege comes responsibility, adding, "When we ask Grant, 2, 'What does daddy do at work?' we think he gives a perfect answer. 'Daddy makes money and helps people.'"
You can read the wonderful article from 32963 below.
Download