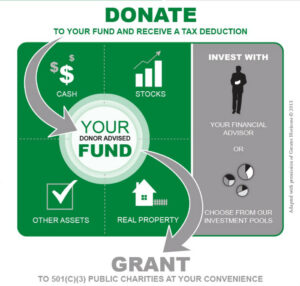 Organize Your Charitable Giving
Simple steps to establish a fund:
Name your fund.
Provide your contact information.
Choose a fund type.
Choose a method of investment.
Contribute to your fund.
Start using your fund to make grants
Types of funds:
Donor Advised
Stay involved and support any 501(c)(3) charitable organization.
Field of Interest
Support specific areas such as education, health care, the arts, or other special interest and geographic regions.
Designated
Support one or more specific charitable organizations.
Unrestricted
Support broad charitable needs of the community.
Scholarship
Help students pursue their dreams.
Benefits of a fund at Indian River Community Foundation:
Formal grant presentations.
Help developing a charitable giving plan.
Online access to fund information.
Quarterly fund statements.
Fund Anniversary Review.
Access to online Nonprofit Search.
Exclusive social and educational events
Annual Administrative Support Fees on the Market Value of Fund Assets
1.00% on the first $1million
0.60% on the next $1million
0.30% on the next $2million
0.10% on the next $3million
Flat 0.25% on funds $7 million and above
Minimum of $250 annual administrative support fee
Administrative support fees sustain the Indian River Community Foundation's mission-based operations.
Download the Donor Advised Fund Application