IRCF Awards Ballet Vero Beach $25,000
Ballet Vero Beach (BVB) strives to promote the art of dance as a universal language in Indian River County and beyond. Each season they provide three free student matinee performances to 1st, 3rd, and 4th graders in Indian River County. For the past four years, Ballet Vero Beach has partnered with The Learning Alliance (TLA). This work has reinforced what they have long understood as the power of the arts to assist student achievement in the classroom. This work has informed all aspects of their educational programming.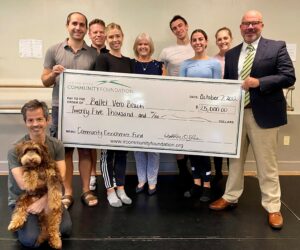 Indian River Community Foundation recently awarded Ballet Vero Beach $25,000 to support their programs for school aged children. Ballet Vero Beach's Stage to Page program provides the highest quality arts exposure while including additional engagement using arts integration techniques to improve early literacy in the community. BVB and TLA have completed two years of their first collaboration, "The Sleeping Princess", for 1st graders. This season, they will add a second major collaboration, "Firebird" for 3rd graders, to the Stage to Page program.
The Stage to Page program has changed their Student Matinee Series from simple arts exposure to complete arts integration experiences. The program also enhances educator knowledge and ability to engage in arts integration techniques. Research supports that arts integration has great potential for student learning in multiple disciplines. Ballet Vero Beach's intention is to tackle issues raised in the community needs assessment such as increasing 3rd grade literacy by inspiring teachers and students to engage in arts learning experiences. Click here to learn more.
Indian River Community Foundation's discretionary grantmaking is aligned with a vision of a more healthy, prosperous, and generous Indian River County community. Grantmaking priorities are informed by the findings of the most recent community needs assessment and the most current data and information collected on Indian River Indicators.
IRCF is holding informational sessions for nonprofit 501(c)(3) organizations serving Indian River County who are interested in applying for a competitive grant. If interested, please call 772.492.1407 or email Brooke Sauserman to reserve your spot. Please read our Guidelines before registering.