IRCF Awards Bike Walk Indian River County $10,000
Founded in 2015, Bike Walk Indian River County is a coalition of community volunteers with the mission to make our transportation network safer to walk and ride bikes. Indian River Community Foundation recently awarded Bike Walk $10,000 for The Bike Rehab Project from the Community Enrichment Fund.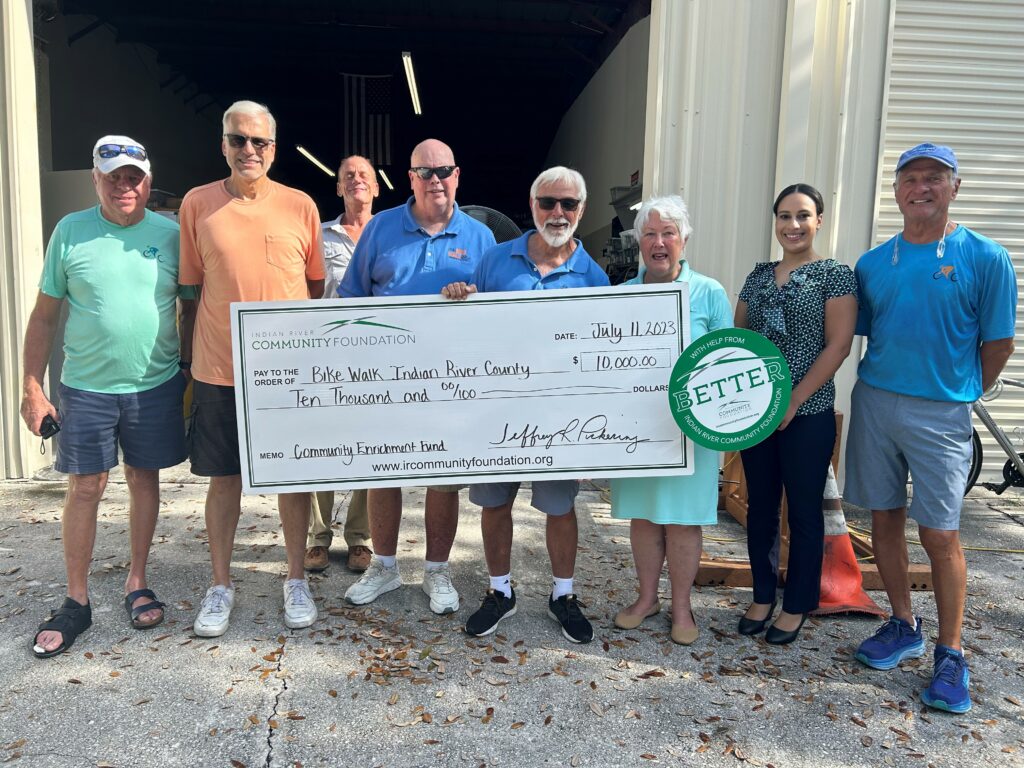 In this program, volunteer mechanics repair donated bikes for distribution to people who need them for transportation. With their bicycle, each recipient receives online bike safety education and is offered a lock, lights and a helmet at no charge. They are also given a list of public bike work stations which have been installed by Bike Walk and the local bike club, Vero Cycling, to help maintain their new bikes.
In 2022, Bike Walk distributed 360 bicycles. They currently have 21 community partner organizations who refer applicants to the program and verify their financial need. In 2023, the organization is focused on better identifying transportation disadvantaged members of Indian River County as recipients of The Bike Rehab Project bicycles. This focus includes promoting the bike racks on GoLine buses for bike riders to combine a bike ride with a bus trip to fill gaps in our only public transit service network. Annually, Bike Walk serves as many as 2,000 children with bike safety rodeos and another 40-50 people in bike repair and online bike safety education programs.
Indian River Community Foundation's discretionary grantmaking is aligned with a vision of a more healthy, prosperous, and generous Indian River County community. Grantmaking priorities are informed by the findings of the most recent community needs assessment and the most current data and information collected on Indian River Indicators. Grants from the Community Enrichment Fund are reviewed by a Grants Committee comprised of volunteers Suzanne Bertman, Pat Brier, Toni Hamner, Dale Jacobs, Wanda Lincoln, Dawn Michael, and Angelia Perry.
IRCF holds monthly informational sessions for nonprofit 501(c)(3) organizations serving Indian River County who are interested in applying for a competitive grant. If interested, please call 772.492.1407 or email Brooke Sauserman to reserve your spot. Please read our Guidelines before registering.