IRCF Awards Gifford Youth Orchestra $24,000
Gifford Youth Orchestra (GYO) strives to provide education, experience, and training in various cultural and performing arts, including music, drama, dance, and the vocal arts for the youth of Gifford, Florida and neighboring communities with a core focus on mastering stringed instruments. IRCF recently awarded Gifford Youth Orchestra $24,000 to support their Staging for Success program.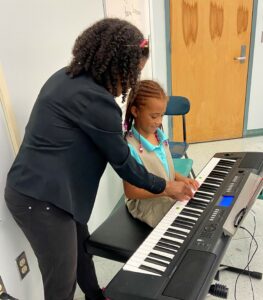 Grant funds will be used to provide an annual tuition scholarship to children age 3-18 who are at risk and from low-income families in Gifford and neighboring communities. GYO students are enrolled in a one-year program starting from their enrollment date. They receive music education and cultural arts performance training classes weekly during the school year along with special programs during summer months where they learn proper use/care of instruments, perform before live audiences, and intermediate students learn to tutor other students.
Indian River Community Foundation's discretionary grantmaking is aligned with a vision of a more healthy, prosperous, and generous Indian River County community. Grantmaking priorities are informed by the findings of the most recent community needs assessment and the most current data and information collected on Indian River Indicators. Grants from the Community Enrichment fund are reviewed by a Grants Committee comprised of volunteers Suzanne Bertman, Pat Brier, Toni Hamner, Dale Jacobs, Wanda Lincoln, Ed Massey, Dawn Michael, Angelia Perry, and Jennifer Watson.
IRCF is holding informational sessions for nonprofit 501(c)(3) organizations serving Indian River County who are interested in applying for a competitive grant. If interested, please call 772.492.1407 or email Brooke Sauserman to reserve your spot. Please read our Guidelines before registering.