IRCF Awards Healthy Start Coalition $40,000
Indian River County Healthy Start Coalition strives to establish and maintain a support system of care that optimizes the health of moms, babies, and their families living in Indian River County. They work to ensure that every infant has the opportunity for good health and positive early learning experiences that unfold within strong family relationships.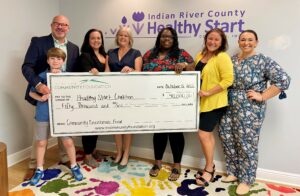 On October 5th, Indian River Community Foundation awarded Healthy Start Coalition $40,000 for their Healthy Families program from the Community Enrichment Fund. With the use of these grant funds, 280 unduplicated people will be served.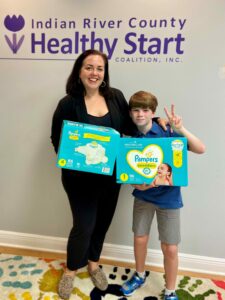 Healthy Families program services are initiated during pregnancy and/or if the infant is 3 months of age or younger for mothers who are vulnerable for meeting the challenges of adding a new member to the family. Participants learn about the importance of healthcare, well-baby checks, childhood immunizations, and family planning. Also, Family Support Specialists conducts regular developmental screenings of the children along with the families to identify if infants and young children need further evaluation for developmental delays that affect readiness for school. Families also receive help to access quality daycare and services in the community.
The national Healthy Families initiative has demonstrated success and received national recognition. The program requires extensive and thorough training and requires certification of program staff. The assessment of Healthy Families Florida Children for Occurrence of "Verified" Abuse or Neglect for 2015-16 published by the Ounce of Prevention Fund of Florida, shows Indian River County with at least 99% of children in families who completed the Healthy Families program between 12 and 24 months having no verified findings of child maltreatment within 12 months after completion.
Indian River Community Foundation's discretionary grantmaking is aligned with a vision of a more healthy, prosperous, and generous Indian River County community. Grantmaking priorities are informed by the findings of the most recent community needs assessment and the most current data and information collected on Indian River Indicators. Grants from the Community Enrichment Fund are reviewed by a Grants Committee comprised of volunteers Suzanne Bertman, Pat Brier, Toni Hamner, Dale Jacobs, Wanda Lincoln, Ed Massey, Dawn Michael, Angelia Perry, and Jennifer Watson.
IRCF is holding informational sessions for nonprofit 501(c)(3) organizations serving Indian River County who are interested in applying for a competitive grant. If interested, please call 772.492.1407 or email Brooke Sauserman to reserve your spot. Please read our Guidelines before registering.