IRCF Awards ORCA $50,000 for Capital Campaign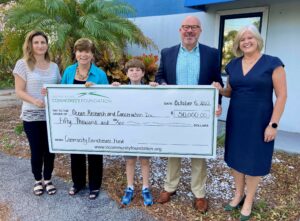 The Ocean Research & Conservation Association (ORCA) endeavors to protect and restore aquatic ecosystems and the species they sustain through the development of innovative technologies, science-based conservation action, and community education and outreach.
Recently, Indian River Community Foundation awarded ORCA a discretionary grant of $50,000 for their capital campaign. As ORCA's applied science and citizen science programs have grown, so has their need for space. Last spring, their lease was unexpectedly terminated for the Fort Pierce Coast Guard building which had served as ORCA's headquarters since 2005. Since last year they have had to run all of their applied science and citizen science programs out of ORCA's Center for Citizen Science next to the Vero Beach Airport. This has made for crowded laboratory and office space and many of their employees have had to work remotely out of their homes. The new building is 6500 square feet and will not only alleviate ORCA's current space constraints but also provide room for additional growth. This increased capacity will benefit many community partners as well. ORCA has raised over 85 percent of their goal of $1,200,000 dollars.
Click here if you would like to support ORCA's campaign. Donations can also be made through your donor-advised fund by logging into MyFund or by contacting a member of our team at donorservices@ircommunityfoundation.org or 772.492.1407.
Indian River Community Foundation's discretionary grantmaking is aligned with a vision of a more healthy, prosperous, and generous Indian River County community. Grantmaking priorities are informed by the findings of the most recent community needs assessment and the most current data and information collected on Indian River Indicators. Grants from the Community Enrichment Fund are reviewed by a Grants Committee comprised of volunteers Suzanne Bertman, Pat Brier, Toni Hamner, Dale Jacobs, Wanda Lincoln, Ed Massey, Dawn Michael, Angelia Perry, and Jennifer Watson.
IRCF is holding informational sessions for nonprofit 501(c)(3) organizations serving Indian River County who are interested in applying for a competitive grant. If interested, please call 772.492.1407 or email Brooke Sauserman to reserve your spot. Please read our Guidelines before registering.