IRCF Awards SafeSpace $25,000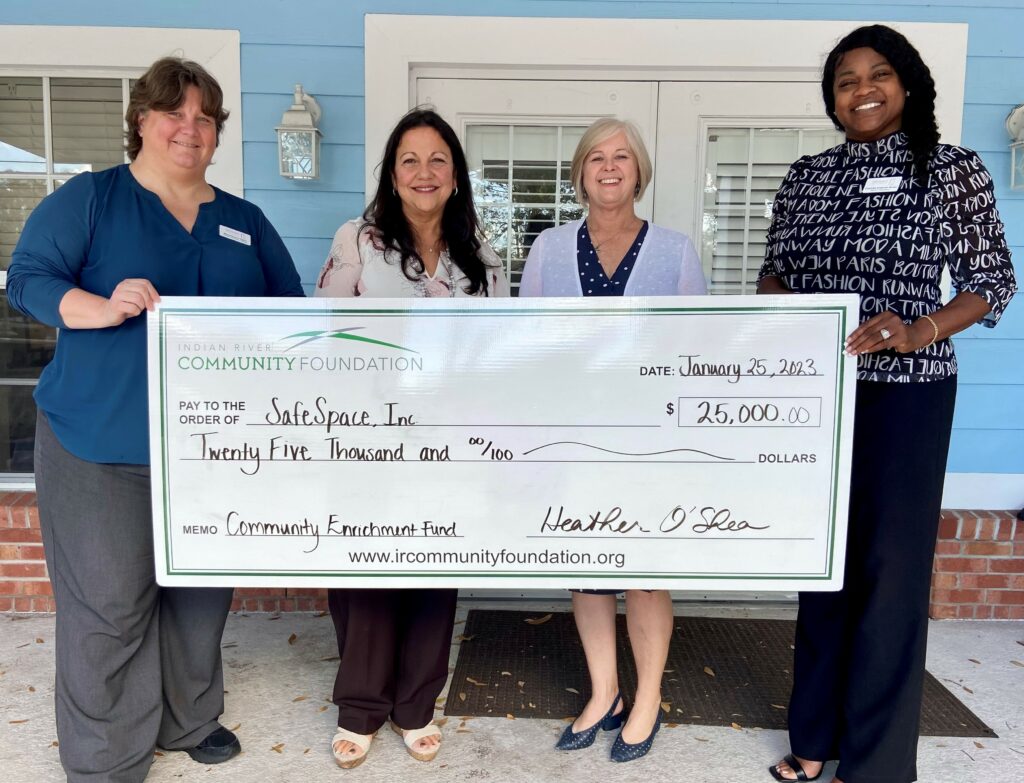 SafeSpace is the only State-Certified Domestic Violence Center on the Treasure Coast, saving lives 24/7 and preventing domestic violence in the communities we serve. Indian River Community Foundation recently awarded SafeSpace $25,000 from the Community Enrichment Fund to support the emergency shelter in Indian River County.
SafeSpace will utilize this grant to empower the safety and well-being of adult victims of domestic violence and their children through intervention, prevention and advocacy services. Last year, the organization served approximately 776 individuals with 190 of those participants at the Indian River shelter.
Nearly 40% of Florida women and 30% of Florida men experience intimate partner dating violence, intimate partner sexual violence, and/or intimate partner stalking. Children exposed to violence in the home are 15 times more likely to be physically and/or sexually assaulted than the national average. SafeSpace works with survivors of intimate partner violence and their children to remove abuse, access social support and improve quality of life. Recognizing that at the national level, 99% of victims of intimate partner violence suffer from financial abuse, SafeSpace places special focus in assisting program participants to achieve financial stability through the facilitation of our Economic Justice Empowerment Program. It is important to note that an average of 70% of SafeSpace program participants are low-income working participants. In addition, SafeSpace proudly partners with Indian River County social service agencies to broaden the network of support for survivors, address their highly complex needs and refer them to individualized, trauma-informed care.
Click here to view SafeSpace's immediate needs list.
Indian River Community Foundation's discretionary grantmaking is aligned with a vision of a more healthy, prosperous, and generous Indian River County community. Grantmaking priorities are informed by the findings of the most recent community needs assessment and the most current data and information collected on Indian River Indicators. Grants from the Community Enrichment Fund are reviewed by a Grants Committee comprised of volunteers Suzanne Bertman, Pat Brier, Toni Hamner, Dale Jacobs, Wanda Lincoln, Dawn Michael, Angelia Perry, and Jennifer Watson.
IRCF holds monthly informational sessions for nonprofit 501(c)(3) organizations serving Indian River County who are interested in applying for a competitive grant. If interested, please call 772.492.1407 or email Brooke Sauserman to reserve your spot. Please read our Guidelines before registering.