IRCF Awards The Learning Alliance $25,000
The Learning Alliance is a vision-driven, emergent learning organization dedicated to uniting a community and building a pipeline of support for children birth - 3rd grade. They strive to transform our community's future and become a model for the nation by cultivating a culture in which 90% of our children read on grade level by the end of third grade.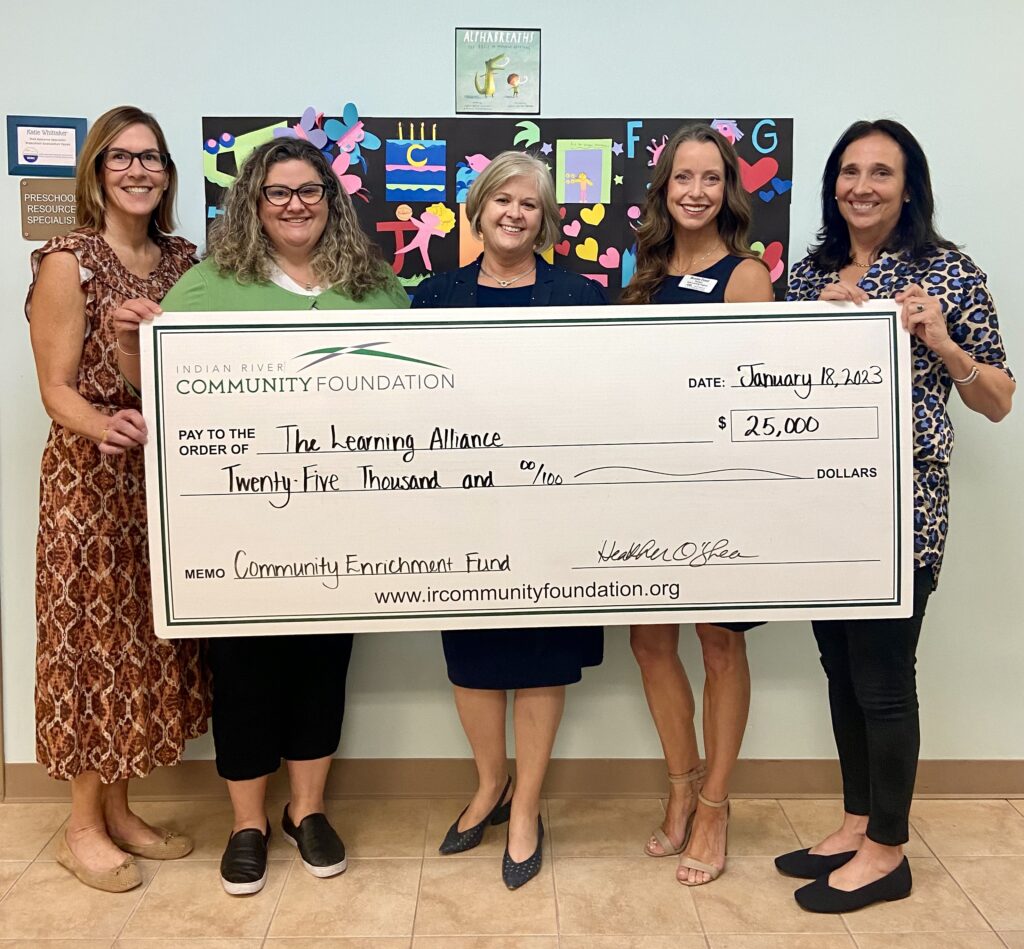 On January 18th, Indian River Community Foundation awarded The Learning Alliance $25,000 to help fund an Early Learning Programs Prevention Intervention Specialist. The grant funds will be used to ensure that students, teachers, and parents attain the skills necessary to support early learning so that our 3-5 year old students arrive ready for Kindergarten.
The Prevention Intervention specialist supports Voluntary Pre-Kindergarten (VBK) educators and school leadership, impacting 377 students and 55 adults. This important program provides free PreK to many families who would otherwise not be able to afford it. The Prevention Intervention Specialist collaborates with The Learning Alliance's Moonshot Families Team to engage students and parents in the Early Learning VPK Program.
With only 51% of children in Indian River County arriving "ready for kindergarten" last year (according to 2021 FLKRS), reaching and teaching our youngest learners is more important now than ever. Giving our teachers the necessary skills to address students' needs who are coming to school impacted by poverty, toxic stress, and neglect is critical to promoting mental health and mitigating negative outcomes. Through providing the necessary supports to our teachers, parents, support staff, and students, the Early Learning Programs Prevention Intervention Specialist will ensure that students needs are met and important competencies are built such that our youngest learners arrive ready for Kindergarten.
Indian River Community Foundation's discretionary grantmaking is aligned with a vision of a more healthy, prosperous, and generous Indian River County community. Grantmaking priorities are informed by the findings of the most recent community needs assessment and the most current data and information collected on Indian River Indicators. Grants from the Community Enrichment Fund are reviewed by a Grants Committee comprised of volunteers Suzanne Bertman, Pat Brier, Toni Hamner, Dale Jacobs, Wanda Lincoln, Dawn Michael, Angelia Perry, and Jennifer Watson.
IRCF is holding informational sessions for nonprofit 501(c)(3) organizations serving Indian River County who are interested in applying for a competitive grant. If interested, please call 772.492.1407 or email Brooke Sauserman to reserve your spot. Please read our Guidelines before registering.