IRCF Awards Youth Guidance $40,000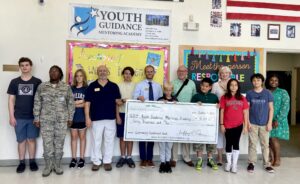 Youth Guidance Mentoring Academy (YGMA) is dedicated to enriching the lives of Indian River County youth through mentoring relationships that inspire trust, self-esteem and positive futures. Indian River Community Foundation recently awarded YGMA $40,000 from the Community Enrichment Fund to support their Group Mentoring Programs.
The overarching goal of the Youth Guidance Group Mentoring Programs is to help Indian River County children break the cycle of poverty. The programs occurs Monday through Friday after school from 3:00 p.m. to 7:30 p.m. and during the summer from 8:30 a.m. to 2:30 p.m. All programs and meals are provided free of charge thanks to the generosity of the local community.
The Group Mentoring Programs encompass three core areas:
Academic Enrichment: Children participate in tutoring, homework help, and STEAM (science, technology, engineering, arts, and math). The goal is to ensure 100% of youth are promoted to the next grade level or graduate from high school on time.
Life Skills: Teaching children life skills is vital to help them develop self-confidence and become independent adults. YGMA offers money management, meal preparation, etiquette, gardening, sewing, leadership/public speaking, career preparation, and recreational activities.
Vocational Training: YGMA strives to help children develop marketable skills and ignite their interest in career paths that are in demand in our local and national economy. Children ages 12-18 participate in bicycle repair, woodworking, web design, culinary arts, and farming. These programs teach children how to work as a team, use basic tools, and apply what they are learning in school to the real world.
If children discover they are interested in skilled trades or mechanics, Youth Guidance encourages them to enroll in our pre-apprenticeship, a state-certified program where students (ages 16-24) receive certifications and learn five trades: Welding, plumbing, carpentry, HVAC, and electric. YGMA's trained staff are responsible for teaching the programs, and they frequently partner with community members to leverage their expertise. For example, volunteers from BikeWalk Indian River County assist with Bicycle Repair and the Florida Department of Health offers guidance for their gardening program.
Click here to donate to Youth Guidance. Donations can also be made through your donor-advised fund by logging into My Fund or by contacting a member of our team at donorservices@ircommunityfoundation.org or 772.492.1407.
Indian River Community Foundation's discretionary grantmaking is aligned with a vision of a more healthy, prosperous, and generous Indian River County community. Grantmaking priorities are informed by the findings of the most recent community needs assessment and the most current data and information collected on Indian River Indicators. Grants from the Community Enrichment Fund are reviewed by a Grants Committee comprised of volunteers Suzanne Bertman, Pat Brier, Toni Hamner, Dale Jacobs, Wanda Lincoln, Dawn Michael, and Angelia Perry.
IRCF holds monthly informational sessions for nonprofit 501(c)(3) organizations serving Indian River County who are interested in applying for a competitive grant. If interested, please call 772.492.1407 or email Brooke Sauserman to reserve your spot. Please read our Guidelines before registering.