Local Charities Challenged by COVID-19, Here's How You Can Help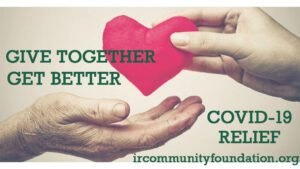 In Indian River County, 51% of households lack sufficient savings to withstand a sudden loss in wages. IRCF and the United Way believe hourly, low-wage workers and their families will experience unprecedented financial hardship in the months to come. Last week, IRCF and the United Way conducted an emergency needs survey and learned that at least 30 local charitable organizations that serve vulnerable individuals and families in our community expect an increased demand in services while at the same time expect a decrease in earned revenue or contributions due to canceled fundraising activities. Many of these organizations will be either laying off staff or doing their best to operate with a reduced workforce. Here are some ways you can help.
Make Your 2020 Charitable Contributions Now
Review the annual contributions you made in 2019 and make your 2020 contributions now, especially if you plan to give cash. If one or more of your favorite charities serves vulnerable individuals and families, consider increasing the amount. More information about local charities can be found here:
Make a Gift to the United Way's COVID-19 Community Response Fund Now
The United Way of Indian River County's COVID-19 Community Response Fund will be used in the coming weeks and months to support local charities and the individuals and families they serve who are affected by the crisis. Priority needs will include food, rent and utility assistance for low-income individuals and families. Distributions from this fund will be coordinated by a committee made up of knowledgeable community leaders and grant-makers including Indian River Community Foundation.
Make a Significant Gift to Save, Sustain a Specific Charitable Organization
90 percent of local charitable organizations hold less than 12 months savings on their balance sheets in preparation for a "rainy day." IRCF has identified several local charitable organizations whose mission and programs are critical to the quality of life of vulnerable individuals and families in our community, and whose business continuity will be severely impacted by the increased demand in services and loss of earned income and other revenue at the same time. If you would like to discuss making a more significant gift to save or sustain a specific organization, please contact a member of IRCF's donor services team directly at 772.492.1407 or donorservices@ircommunityfoundation.org.
Giving is Good. Giving Together in Times of Need is Better.
We live in one of the most generous communities in the nation, with annual household giving nearly double that of the average American household. Unique to Indian River County, this holds true for households across all income levels. Now is the time for those of us with capacity to do so to join together and give. While we expect the immediate future to be difficult for many, with your help we believe it will get better.
Indian River Community Foundation was established in 2008 with a mission of building a better community through donor-driven philanthropy. With assets of more than $70 million in 175 charitable giving accounts, the Community Foundation and its clients have awarded more than $70 million in grants, mostly to nonprofit charitable organizations located in Indian River County, Florida. Visit www.ircommunityfoundation.org to learn more.