Measure of Our Mission: Vero Beach Rowing Seeking a Stroke of Generosity for New Boathouse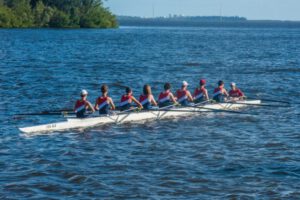 Vero Beach Rowing (formerly Indian River Rowing Club) was founded in 2008 with a mission "to promote and teach the sport of rowing to the community in order to develop physical fitness, personal character, and an ethic of cooperation through competitive and recreational opportunities."  Since its establishment, the organization has served disadvantaged youth, implemented a middle school rowing program and developed a successful high school rowing program which resulted in two indoor rowing world records and a state championship last year.
Last year, in preparation for an upcoming capital campaign for a new boathouse on the Indian River Lagoon in Vero Beach, the organization established the Vero Beach Rowing Boathouse Fund at Indian River Community Foundation.  The goal of this campaign is to raise approximately $2 million to pay for the construction of this new community facility.  According to Chris Ryan, who serves on the organization's Board of Directors, approximately $750,000 is already committed to the project, and naming rights are being offered for a contribution of $1 million.
Vero Magazine January 2017
More information about this project can be found by clicking here for a recent article from Vero Beach Magazine.  Interested contributors may learn more by contacting a member of Indian River Community Foundation's donor services team at donorservices@ircommunityfoundation.org.