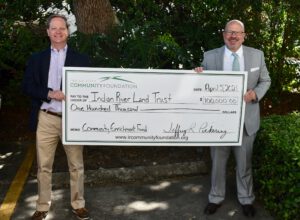 Indian River Community Foundation recently awarded $100,000 to Indian River Land Trust for their effort to protect the land that protects the lagoon. The IRLT grant was one of four totaling $170,000 distributed to nonprofit charitable organizations serving Indian River County.
According to an annual report card produced by the Marine Resources Council, the water and habitat quality in the Indian River Lagoon is not meeting regulatory requirements. That is where Indian River Land Trust comes in. Jennifer Miller Herzog of the Land Trust Alliance agrees that, "land determines the quality of the water we have to drink, play in and work in, and land trusts are a prime player in protecting and stewarding this critical resource." The Community Foundation is honored to be a part of this recent effort to acquire, restore, and steward the land that protects the Indian River Lagoon.
The grants in this most recent grant cycle were reviewed by a Grants Committee comprised of volunteers Pat Brier, Toni Hamner, Dale Jacobs, Ed Massey, Sandy Rolf, and Larry Salustro. While most of the Community Foundation's grants are awarded by clients through donor advised funds, Indian River Community Foundation's competitive grant program is made possible through the generosity of anonymous donors to several grantmaking funds, including the Community Enrichment Fund. These valuable resources support the Community Foundation's mission of building a better community through donor-driven philanthropy.
Indian River Community Foundation was established in 2008 with a mission of building a better community through donor-driven philanthropy. With assets of approximately $82 million in 185 charitable giving accounts, the Community Foundation and its clients have awarded more than $80 million in grants, mostly to nonprofit charitable organizations located in Indian River County, Florida. Visit www.ircommunityfoundation.org to learn more.