Philanthropy Field Trip: United Against Poverty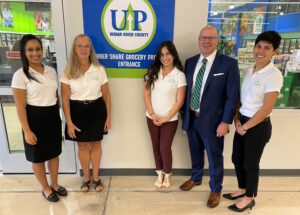 On March 4, 2020, Indian River Community Foundation's team took a philanthropy field trip to tour the new United Against Poverty facility. The facility officially opened on January 27, 2020 and is 46,000 square feet.
The UP Center houses administrative offices of staff and other nonprofit organizations, four classrooms with state-of-the-art smart boards, and a health care center. Additionally, the Member Grocery Center provides a great way for qualified families to pick up food and household items for a small handling fee.
Please click here for more information about supporting United Against Poverty.