Philanthropy Field Trip: Vero Beach Rowing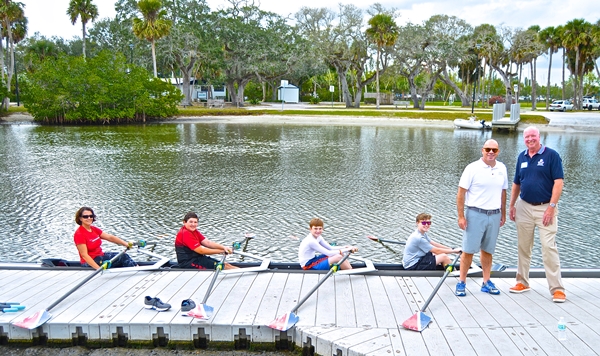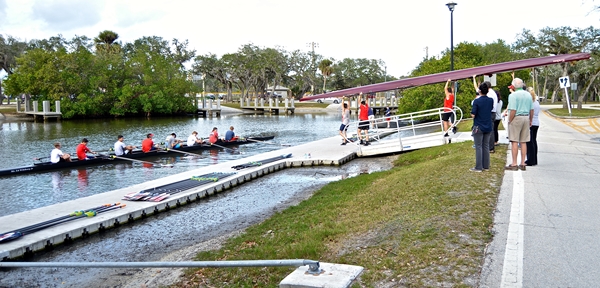 Vero Beach Rowing is seeking a stroke of generosity to help finish its campaign to build a new boathouse on the Indian River Lagoon.  At a recent philanthropy field trip organized with Indian River Community Foundation, Vero Beach Rowing board member Chris Ryan reported that more than $1.9 million in donations is committed toward the estimated cost of $2.3 million needed for the project.
In addition to growing competitive and recreational programs for local youth and adults, Board secretary Shotsi Lajoie also shared the news of several successful projects underway to expand the organization's programs to other populations.  "We have an active group of cancer survivors involved, as well as an outreach project for men transitioning out of homelessness," Lajoie said.  "They all love the positive energy and feeling of being part of a team that the sport brings."
New Director Austin Work, who rowed for the Salisbury School in Connecticut and at Lewis and Clark College in Oregon, talked about his vision for bringing Vero Beach Rowing's early successes to the next level.  "As a competitive rowing coach I want to help our teams win," he said.  "But I am also excited about introducing the sport of rowing to all different types of people in our community – veterans, first responders, para-athletes and many more who can benefit from this great sport."
Indian River Community Foundation is partnering with Vero Beach Rowing on this project by collecting contributions in the Vero Beach Rowing Boathouse Fund, one of more than 160 charitable giving accounts administered by the Community Foundation to support local philanthropy.  "We see this as a meaningful way to carry out our mission of building a better community through donor-driven philanthropy," said Jeff Pickering, President and CEO.  For more information about supporting Vero Beach Rowing, visit www.verobeachrowing.org or call 772.444.7697.