Private Event, RSVP Required: Andrew Duhon, Live in Concert, December 12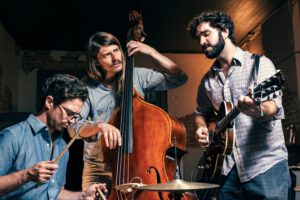 A special musical performance by Grammy-nominated New Orleans songwriter and storyteller, Andrew Duhon. The concert is scheduled for Tuesday, December 12 at the Vero Heritage Center at 2140 14th Avenue, next to Pocahontas Park, in downtown Vero Beach. Doors open at 7:00pm (hosted beer/wine), and show starts at 8:00pm sharp. Click here for more event details.
This invitation-only concert is being held to introduce friends to a group of about a dozen local businessmen called "Business for a Better Indian River County." BBIRC has been getting together with Indian River Community Foundation over lunch or the occasional cold beverage to learn about programs and projects in our community where our philanthropy can make a difference. In their first year, BBIRC pooled resources to support the Florida Archery Foundation and Crossover Mission; two Vero Beach-based charities using sports as a way to help local youth become better students and citizens. In the second year, BBIRC supported several local charities serving children in need with technology to help strengthen and sustain their business operations.
As for Andrew Duhon, he has released three recordings, the latest of which, "The Moorings," was nominated for a Grammy in 2014 for "Best Engineered Album." While he has toured solo for much of his career, for this performance Duhon will be backed by upright bassist, Myles Weeks, and drummer, Maxwell Zemanovic. More info about the music can be found at www.andrewduhon.com.
The concert is free, hosted by BBIRC and Indian River Community Foundation. However, a reservation is required. To RSVP please send your name, guest's name, phone number and email address to yamilet@ircommunityfoundation.org or call 772.492.1407.
Check out this live performance of the song "Like They Used To" below: