Community Foundation, United Way Join Childcare Resources to Share Insights on Progress, Ongoing Challenges for Indian River County's Children in Need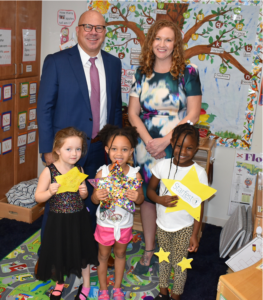 On February 7, Indian River Community Foundation President and CEO, Jeff Pickering, and United Way President and CEO, Meredith Egan, will participate in a panel conversation with nationally recognized early childhood education expert and author of "Not Just Cute: Intentional Whole Child Development," Amanda Morgan. The event is part of the annual Starfest event benefiting Childcare Resources of Indian River and the children the organization serves.
In 2020, the Community Foundation and the United Way published the "Indian River County Community Needs Assessment," which included the results of the most comprehensive survey on the needs of vulnerable individuals and families to be conducted in more than a decade. Among the report's findings was evidence of hard-earned progress in efforts to improve the lives of the community's children which both Pickering and Egan will speak about.
"Current data and information behind much of the progress documented in the Community Needs Assessment is now featured in a new online resource developed by the Community Foundation called "Indian River Indicators," said Pickering. "This tool is being used by local nonprofit charitable organizations, like Childcare Resources, and their advocates to strengthen fundraising efforts and sustain proven programs."
Such programs at Childcare Resources that are funded by both the Community Foundation and the United Way have helped to reduce the County's infant mortality rate by more than 50 percent over the last decade. They have also helped to produce double digit improvement in the County's kindergarten readiness and 3rd grade reading proficiency scores during the last 10 years.
"Despite the progress being made to improve the lives of the community's children, however, perennial systemic challenges persist," said Egan. "There are still almost 50 percent of Indian River County's children who begin elementary school not ready for kindergarten and almost 40 percent who cannot read by 3rd grade."
Community leaders at the Community Foundation, the United Way and Childcare Resources have organized around efforts like The Children's Trust Initiative. Its purpose is to develop policy that can address these disparities by providing sufficient public funding to scale up proven programs that improve the lives of children.
Other systemic challenges for the community's children are more stubborn and require innovation and collaboration by public and private funders to promote promising practices in Indian River County that have not previously existed. Much of the work that Childcare Resources does now in service of professional development, coaching and academic achievement for early childhood educators in our community has been funded by these types of collaborative efforts.
"Through our Community Enrichment Fund, the Community Foundation has helped Childcare Resources to bring new ideas to market that are extending the organization's mission beyond those teachers and children just at their school," said Pickering. "Both Meredith and I commend Childcare Resources' board and staff for doing more for the community beyond what we might normally expect. They are true public servants, and we are proud to be funding partners."
About Indian River Community Foundation
Indian River Community Foundation was established in 2008 with a mission of building a better community through donor-driven philanthropy. With assets of approximately $95 million in 200 charitable giving accounts, the Community Foundation and its clients have awarded more than $85 million in grants, mostly to nonprofit charitable organizations located in Indian River County, Florida. Visit www.ircommunityfoundation.org to learn more.
About United Way of Indian River County
United Way of Indian River County (UWIRC) is a 501(c)(3) non-profit organization that fights for the health, education, and financial stability of every community member. United Way works with local programs to provide resources to individuals and families in crisis today while working year-round to improve community conditions and create lasting solutions. We are effectively building a solid foundation and improving lives by mobilizing the caring power of our community. Visit www.unitedwayirc.org to learn more.
About Childcare Resources of Indian River
Childcare Resources elevates and promotes the highest quality early childhood development and education in Indian River County, focusing on economically challenged children and families. Visit www.childcareresourcesir.org to learn more.