SafeSpace- Emergency Shelter re-opening in Indian River County
By: Alexander Sylvia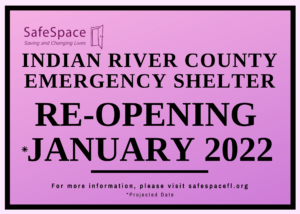 SafeSpace is a wonderful non-profit that works to prevent and help people escape domestic violence in the Treasure Coast. SafeSpace runs a 24/7 hotline for those surviving domestic violence. Their staff that runs this hotline is able to access the situation and the caller's safety, and make recommendations from there. The hotline operators are able to help the caller get to safety if needed, call law enforcement and provide other outreach services.
SafeSpace's main service comes in the form of their Emergency Shelters. These Emergency Shelters are open 24/7, 365 days a year, taking in any survivors of domestic violence from Indian River, Martin, and St. Lucie counties. The location of the shelters are confidential, to make sure that the survivors are safe. Once in the Emergency Shelter, survivors are helped by staff with employment options, referrals to the emergency room or law enforcement, childcare resources, medical attention, emotional support, legal help and above all, a safe place to stay.
These shelters are a vital part of the process of helping a survivor of domestic violence, giving them a place where they don't feel trapped and they can make a plan for their safety. While SafeSpace's services are offered to anyone outside the shelter, they have provided 13,561 safe shelter nights to the Treasure Coast in the past year alone. The Emergency Shelter in Indian River and St. Lucie counties were unfortunately shut down due to hurricane damage, but SafeSpace is proud to announce that they are re-opening the shelter in Indian River County in January 2022.