Superintendent Search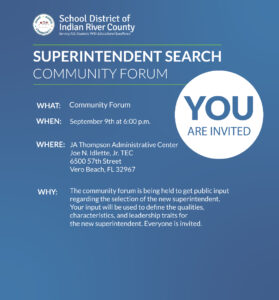 The School District of Indian River County has begun its search for the new superintendent. One of the first steps of the search is to collect input from the community. This input will assist in developing a leadership profile that defines the qualities, characteristics, and leadership traits that the community wants to see in the new superintendent.
To share your input compete the Community Survey, or attend the Community Forum September 9th, 2019 at 6:00-7:00pm ET at the JA Thompson Administrative Center Joe N. Idlette, Jr. TEC
6500 57th Street, Vero Beach, FL 32967.
The Forum is an open invitation to all.