Weekly Insights: Treasure Coast Food Bank Feeds More with their Mobile Mercado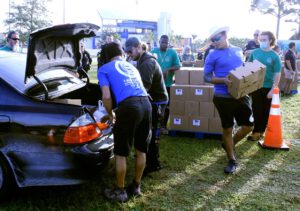 Treasure Coast Food Bank (TCFB), the largest hunger relief organization on Florida's Treasure Coast, works tirelessly to provide direct services and outreach programs to help support children, seniors, and families in need. With a staff of over 50 employees, and a fleet of more than 8,500 volunteers, TCFB distributes millions of meals annually to our neighbors in Indian River, St. Lucie, Martin, and Okeechobee counties.
This holiday season, the Treasure Coast Food Bank is collaborating with partners in Indian River, Martin, St. Lucie, and Okeechobee Counties to provide meal assistance to those in need. Click here to read the full meal assistance schedule.
Want to help provide food security for our neighbors year-round? You can volunteer, donate money from your Donor Advised Fund, or collect canned food to donate to the Treasure Coast Food Bank. For every $1 donated, the organization can provide eight meals. Click here for more details.
Weekly Insights works in conjunction with Indian River Indicators. Indian River Indicators was launched in June 2021 and originated after the completion of the 2019 Indian River Community Needs Assessment. It provides key data and information about our community that is updated annually and can be used to support and sustain proven programs. It can also be used by community leaders to develop policy, promote promising practices and inspire innovation that can lead to solutions to persistent community challenges. Indian River Community Foundation holds monthly informational sessions to introduce the community to this new resource. The next session will be held on Tuesday, December 7th at 4pm via zoom. Please email Foundation Coordinator, Chiaka Nwosu at chiaka@ircommunityfoundation.org to attend a session.
To learn more visit www.ircommunityfoundation.org and click "Indian River Indicators" or contact a member of the Community Foundation's team at 772.492.1407.