Update: Boys and Girls Club of Fellsmere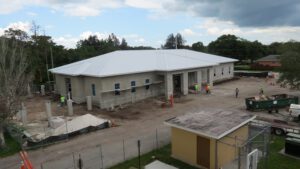 The Boys and Girls Club of Fellsmere are anxious to move into their new facility. BGC of Fellsmere originally opened in 2010 in the old school house building. The "Club" has since provided a home for educational and recreational resources to the children of Fellsmere. Due to issues with flooding, the "Club" has had to close it's doors limiting the amount of children they are able to serve. Luckily, long time supporters Larry and Karen Mulder and executive director, Elizabeth Thomason initiated a campaign to build a new space for the "Club".
On July 18th, the Fellsmere kids had the opportunity to tour the newly constructed building. The site superintendent gave tours to four groups to explain the various processes of constructing a building. The kids were very excited to move in and are looking forward to the completed building.