Vero Beach Lifeguard Association and Youth Sailing Foundation Collaborate on Catamaran Sailing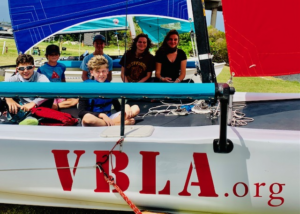 Vero Beach Lifeguard Association (VBLA) and Youth Sailing Foundation (YSF) are collaborating to bring the fun and joy of sailing to beginner sailors abroad VBLA's sixteen-foot Hobie Getaway.  The boat was in storage at YSF when VBLA's Erik Toomsoo suggested YSF put the boat into commission and utilize it for familiarization and fun sails for beginner sailors.   With its heavy simple construction, wide trampoline, and forgiving sailing characteristics, the Getaway is a perfect boat for taking group of four or five junior sailors out onto the Lagoon with an adult instructor aboard.  Everyone gets a chance to steer and trim sails.  Perhaps more importantly, the kids get to hangout together having fun on the water.
Stu Keiller, Executive Director of YSF, said: "Erik and VBLA's thoughtful and generous gesture allowing YSF to utilize the Getaway has given us an immensely popular addition to our fleet. VBLA provided a new set of sails and YSF's volunteer catamaran expert Rick Nelson tuned and updated fittings to complete the commissioning process. Combining the resources of both organizations is a win-win for the children of Indian River County."
VBLA's Erik Toomsoo commented that: "It's great to able to put the boat to use enabling children to get out on the water. YSF's emphasis on safety and their required swim test provides children with a respect for the water and how to have fun while remaining safe. This makes them role models rather than potential rescues when they come to our beaches." The program is a win-win for both organizations.
For more information on VBLA and YSF go to vbla.org and ysfirc.org.
This article first appeared on VeroNews.com. To read the original article, please click here.