EPP Spotlight: Vero Beach Rowing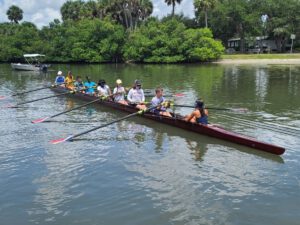 Vero Beach Rowing has a mission of promoting and teaching the sport of rowing to the community in order to develop physical fitness, personal character, and an ethic of cooperation through competitive and recreational opportunities. Their Financial Aid Program provides scholarships to students of low income families who would otherwise be unable to experience the discipline, teamwork and leadership learned through the sport of rowing.
Vero Beach Rowing is also a part of our Endowment Partners Program (EPP). The purpose of the EPP is to help local charities plan for their long-term sustainability by growing a permanent endowment fund. During a 12-month program, participants learn about endowments, planned giving, investment management and marketing solutions that inspire loyal donors to make planned gifts from their estates. The program is coordinated by IRCF team member Yamilet Cendejas.
To learn how to give outright contributions today or bequests and other planned gifts for future support, please see "Planned Giving: Leave a Legacy" under our "Giving" section or go to the Vero Beach Rowing website.