Weekly Insights: Camp Haven
According to the Treasure Coast Homeless Services Council, there are approximately 256 homeless adults in Indian River County in 2023.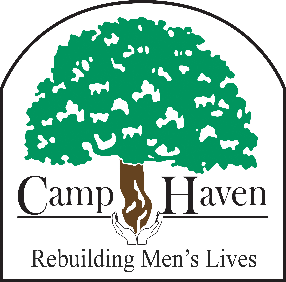 Established in 2014, Camp Haven is the only transformational shelter for homeless and at-risk men of Indian River County. The organization is dedicated to helping men experiencing homelessness rebuild their lives by providing transitional housing, education, stability, and encouragement, and promoting a sense of community, accountability, and brotherhood for those who need it most. Residents of Camp Haven complete a comprehensive three-phased program designed to help them heal physically, mentally, and spiritually, so they may lead productive and successful lives and become contributing members of the communities around them.
Kellie's Story, as told by Camp Haven Executive Director Chuck Bradley:
"Kellie is a man that became addicted to drugs and alcohol, and before long he could no longer maintain employment and housing. He soon found himself living in the woods and panhandling on the streets to feed his addiction. He was in and out of the hospital and the legal system. This journey lasted for five years! Then one day, he decided it was time to reclaim his life, and that is when he showed up at Camp Haven. After a lengthy meeting with Camp Haven staff, we mutually determined he needed long term treatment.
Kellie checked himself into a detox facility to get sober and then enrolled in Dynamic Life Recovery to focus on sobriety. After graduating from Dynamic Life, he became a Camp Haven resident, where he is excelling. He is working, attending programs, saving money, maintaining his sobriety, and rebuilding his life."
Learn more about Camp Haven and the work they do at their website here.
Weekly Insights works in conjunction with Indian River Indicators. Indian River Indicators was launched in June 2021 and originated after the completion of the 2019 Indian River Community Needs Assessment. It provides key data and information about our community that is updated annually and can be used to support and sustain proven programs. It can also be used by community leaders to develop policy, promote promising practices and inspire innovation that can lead to solutions to persistent community challenges. Indian River Community Foundation holds informational sessions on the first Tuesday of every month at 4pm via Zoom to introduce the community to this new resource. Please email Director of Philanthropy, Chiaka Nwosu at chiaka@ircommunityfoundation.org to attend a session.
To learn more visit www.ircommunityfoundation.org and click "Indian River Indicators" or contact a member of the Community Foundation's team at 772.492.1407.