Weekly Insights: Economic Opportunities Council
In Indian River County, approximately 46% of households either live below the Federal poverty level or just above. This means that nearly 19,000 households struggle to manage daily financial pressures. The Economic Opportunities Council of Indian River County serves the community with a mission to transition at-risk individuals and families from poverty to self-sufficiency through agency programs and public/private partnerships.

The Economic Opportunities Council's REACH program is an employment training program which provides individual/family case management, money management, education, and short-term vocational training. Clients living at or near the poverty level learn to recognize their barriers to self-sufficiency and how to overcome them. The REACH Program helps determined, hard-working people, achieve their educational and vocational goals, earn a living wage, and move away from poverty and public assistance to financial self-sufficiency. REACH helps put an end to generational poverty one family at a time. The REACH Family Self-Sufficiency Program is funded primarily through Community Service Block Grant (CSBG) funds. 
"Our Reach program is a terrific example of what the Economic Opportunities Council does to help ALICE families to get ahead and be more equipped to manage through financial emergencies," states EOC Executive Director, Angela Davis-Greene.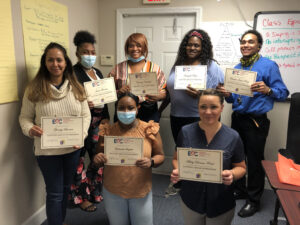 REACH is a multi-step program. One step is attending the two-day workshop which covers understanding poverty, self-assessment, hidden rules of economic class, the importance of language, potential resources, budgeting, money management, and developing a personal plan for building resources.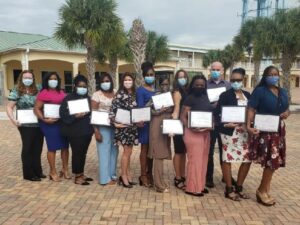 The final step is working with the Program Case Manager to develop and execute a self-sufficiency plan. A typical plan includes educational, professional, financial, and personal/ family goals. Financial assistance is provided for tuition and other costs related to short-term vocational training and college education. Based on needs identified in the self-sufficiency plan, assistance may also be provided for childcare, housing, utility bills, and food. Due to limited resources, participation in this final step is offered only to workshop participants who desire to continue their education and demonstrate the highest ability to have a successful outcome. Participants work closely with the Case Manager to stay on track and meet their goals.
Click here to learn more about the Economic Opportunities Council of Indian River County.
Weekly Insights works in conjunction with Indian River Indicators. Indian River Indicators was launched in June 2021 and originated after the completion of the 2019 Indian River Community Needs Assessment. It provides key data and information about our community that is updated annually and can be used to support and sustain proven programs. It can also be used by community leaders to develop policy, promote promising practices and inspire innovation that can lead to solutions to persistent community challenges. Indian River Community Foundation holds informational sessions on the first Tuesday of every month at 4pm via Zoom to introduce the community to this new resource. Please email Director of Philanthropy, Chiaka Nwosu at chiaka@ircommunityfoundation.org to attend a session.
To learn more visit www.ircommunityfoundation.org and click "Indian River Indicators" or contact a member of the Community Foundation's team at 772.492.1407.