Weekly Insights: Habitat for Humanity
Housing should represent a place of safety, stability, and shelter and not a place of stress, strain, or insecurity. When residents struggle to afford a place to live, that financial strain makes it harder to make other healthy choices, like eating a healthy diet or seeing a doctor when you're sick.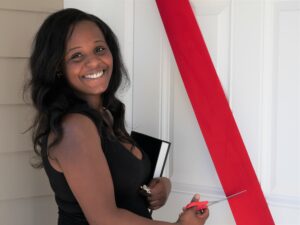 Habitat for Humanity seeks to put God's love into action by bringing people together to build homes, communities and hope. They partner with people in our community, and all over the world, to help them build or improve a place they can call home. Habitat homeowners help build their own homes alongside volunteers and pay an affordable mortgage. The organization is dedicated to eliminating sub-standard housing by building decent, safe and affordable homes for low-income, hardworking families who cannot qualify for a conventional mortgage.
Habitat for Humanity's Neighborhood Revitalization (NR) Program is a focused housing outreach program that provides a path for communities to come together to help low-income residents with needed home repairs. NR aims to serve more families by responding to the needs in the community. This program desires to create new partnerships and empower residents to revive their neighborhood while enhancing quality of life.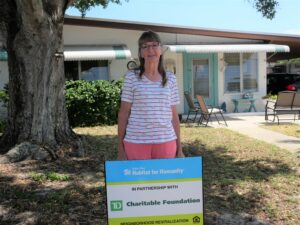 Linda's Story:
Linda, a Vero Beach homeowner, prayed for a miracle when she found out her homeowner's insurance was in jeopardy due to her roof's age. Previously, homeowners had roughly 20 years before needing to plan for a roof replacement. Today, insurance coverage isn't always guaranteed for anything beyond 10 years.
"Even though I kept worrying that it was too good to be true, and that something might get in the way, when the roofers showed up, that's when I finally had peace!"
If you're like Linda, an unexpected critical repair might leave you one step away from losing everything. Linda's limited and fixed income required her to find creative solutions for home improvements, but this was something she knew she couldn't face alone.
One of Indian River Habitat's services offered to local families is the Home Repair Program. Though this is open to any qualifying family, Habitat strongly encourages both veterans and older adults to apply. Older Americans are one of the fastest-growing demographics in the country – by 2030, 20% of the U.S. population will be 65 or older. Yet, more than 19 million older adults are living in homes that are in disrepair or ill-equipped to safely meet their needs.
Providing critical and necessary home repairs is not something that can be done without community support. Community partnerships allows for a broad reach and assists even more families in need of critical or minor home repairs. Together with TD Bank's Charitable Foundation, and through Indian River Habitat's Home Repair program, a total of three families were able to receive funding toward a new roof!
If you would like to contribute to Indian River Habitat's Home Repair Program, or are in need of repairs, visit ircHabitat.org or call, 772-494-1810, and ask to speak with Karyn Bryant, Home Repair Manager.