Weekly Insights: The Buggy Bunch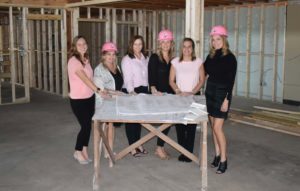 The Buggy Bunch is dedicated to building relationships and meeting the needs of Indian River County moms and their families. The organization's new Family Center opened on April 26, 2021. Since the building was completed, The Buggy Bunch has seen an increase in the number of moms and families engaged in their programs and facilities.
One of the programs operated out of the new center is Playtime in the Loft. This program is designed for mom and children to come at set times during the week for activities in the Learning Loft. This increases social interaction among all participants, as well as the program director and professional staff. Other programs offered at the new facility include Educational Playgroups, Bible studies, bereavement support, marriage enrichment, fitness classes, and teen and single mom's programming.
The Family Center was made possible with support from Indian River Community Foundation. To learn how your organization could be supported by Indian River Community Foundation, attend a nonprofit grantseekers orientation on the second Tuesday of each month by contacting our grants team at grants@ircommunityfoundation.org or 772.492.1407.