Weekly Insights: The Samaritan Center of Vero Beach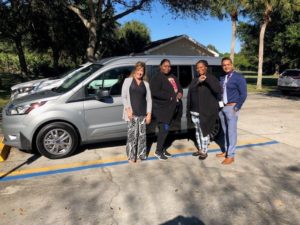 The Samaritan Center provides transitional housing and guidance to homeless families in Indian River County and prepares them to live independently. The average length of stay is 6-9 months. During their stay, the Samaritan Center partners with resident families to provide a nurturing environment, safe housing, case management, support/educational services, and connection to community resources.
The organization recently purchased a 2022 Ford Transit Connect van to provide transportation for all homeless residents, parents, and children to school/trainings, childcare, employment, and job interviews. During the 2020/ 2021 fiscal year, Samaritan Center served 42 unduplicated individuals with approximately 45,990 trips around town. The van was made possible with support from Indian River Community Foundation.
Weekly Insights works in conjunction with Indian River Indicators. Indian River Indicators was launched in June 2021 and originated after the completion of the 2019 Indian River Community Needs Assessment. It provides key data and information about our community that is updated annually and can be used to support and sustain proven programs. It can also be used by community leaders to develop policy, promote promising practices and inspire innovation that can lead to solutions to persistent community challenges. Indian River Community Foundation holds monthly informational sessions to introduce the community to this new resource. The next session will be held on Tuesday, February 1st at 4pm via zoom. Please email Foundation Coordinator, Chiaka Nwosu, at chiaka@ircommunityfoundation.org to attend a session.
To learn more visit www.ircommunityfoundation.org and click "Indian River Indicators" or contact a member of the Community Foundation's team at 772.492.1407.