Weekly Insights: The Source

According to the Treasure Coast Homeless Service Council, there are 225 total homeless adults in Indian River County. Homeless is lacking stable and appropriate housing. Those who experience homelessness may experience adverse health outcomes both physically and mentally. Homelessness can increase rates of certain health problems such as HIV infection, alcohol and drug abuse, mental illness, tuberculosis, and other conditions.
The Source is the only drop-in outreach ministry in Indian River County that serves as a cold weather shelter and remains open seven days a week. The organization also provides hot meals, clothing, basic hygiene items, showers and laundering facilities, mail and phone services, job readiness programs, and cooperative community agency referrals.
The Source began in 1995 as a fledgling homeless ministry. Seventeen years later, the organization has grown into a comprehensive assistance center, opening our 5,000 sq. ft. outreach facility seven days a week, addressing the complex needs of homeless and poor living. The purpose of The Source is to offer life-changing possibilities to residents in crisis – offering emergency hunger relief, clothing, counseling, support groups, hygiene items, showers, mail and telephone services, benefit referrals, cold weather refuge, and more. As first responders, they help provide the critical care our clients need on a physical, spiritual, and personal level. We assess the damages, dress the wounds, and prep the "patient" for further treatment.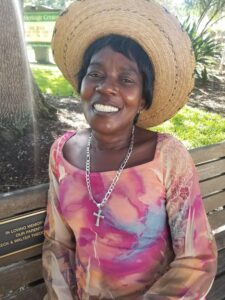 Brigitte's Story:
Brigitte experienced a difficult upbringing. In spite of that, her bubbly spirit and cooking for family, friends, and the homeless in her neighborhood helped her through living with adversity. Facing spiritual, financial and mental health issues, she took a 'flight of faith' and landed at The Source's front door.
"I was broken and in need of help. I wasn't easy to deal with but they helped me and loved me in spite of it" Brigitte recalls.
After graduating from the Dining with Dignity Culinary Program, she received her ServSafe Food Handler Certification. Brigitte, arriving at The Source nearly toothless, became an eligible candidate for Dignity Smiles, a Dental Restoration program, and ultimately received a complete set of upper and lower dentures. Straight from the dentist chair, she landed a kitchen position at an area restaurant. Since she learned to smile again, it enabled her to get her driver's license reinstated, take on additional work duties, and receive a raise!
"I feel more confident to smile and show it off all the time" Brigitte exclaims with a whole new confidence!
Weekly Insights works in conjunction with Indian River Indicators. Indian River Indicators was launched in June 2021 and originated after the completion of the 2019 Indian River Community Needs Assessment. It provides key data and information about our community that is updated annually and can be used to support and sustain proven programs. It can also be used by community leaders to develop policy, promote promising practices and inspire innovation that can lead to solutions to persistent community challenges. Indian River Community Foundation holds informational sessions on the first Tuesday of every month at 4pm via Zoom to introduce the community to this new resource. Please email Director of Philanthropy, Chiaka Nwosu at chiaka@ircommunityfoundation.org to attend a session.
To learn more visit www.ircommunityfoundation.org and click "Indian River Indicators" or contact a member of the Community Foundation's team at 772.492.1407.