Weekly Insights: United Against Poverty
Approximately 10% of people in Indian River County live below the Federal Poverty line. United Against Poverty (UP) strives to inspire and empower people living in poverty to lift themselves and their families to economic self-sufficiency. UP serves those in poverty by providing crisis care, case management, transformative education, food and household subsidy, employment training and placement, personal empowerment training and active referrals to other collaborative social service providers.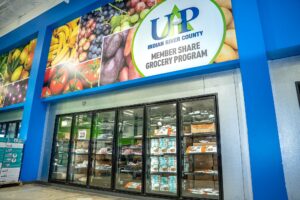 This organization has earned recognition as the busiest single-site social service agency in the state of Florida, serving an average of 650 individuals each day. Since UP's Workforce Development Program's inception in 2015, 250 participants have lifted themselves and their families from poverty as defined by the Federal Government, and 83 have lifted themselves into economic self-sufficiency (above 200% of the Federal Poverty level) in Indian River County. UP's Member Share Grocery Program saved users $5.1 million in 2020 for grocery and personal care products. These savings can be redirected to basic necessities such as childcare, housing and utilities.
UP's Member Share Grocery Program is a dignified food and household assistance program where you can personally select the nutritious food items your family needs. Qualified Families who are living in the 200% or below Federal Poverty Level must fill out an application. Upon qualification, they receive a free Member Card. Once they are given a card, they can select any food or household product they may need for their households. The Program Members contribute a nominal handling fee per item to cover costs of picking up donations. This contribution gives them dignity and empowerment to engage in the transformational programs offered at UP. Any proceeds from those contributions are directed back into the support of facilitating UP's life changing programs.
Click here to learn more about United Against Poverty.
Weekly Insights works in conjunction with Indian River Indicators. Indian River Indicators was launched in June 2021 and originated after the completion of the 2019 Indian River Community Needs Assessment. It provides key data and information about our community that is updated annually and can be used to support and sustain proven programs. It can also be used by community leaders to develop policy, promote promising practices and inspire innovation that can lead to solutions to persistent community challenges. Indian River Community Foundation holds informational sessions on the first Tuesday of every month at 4pm via Zoom to introduce the community to this new resource. Please email Director of Philanthropy, Chiaka Nwosu at chiaka@ircommunityfoundation.org to attend a session.
To learn more visit www.ircommunityfoundation.org and click "Indian River Indicators" or contact a member of the Community Foundation's team at 772.492.1407.