Weekly Insights: Voices for Children of Okeechobee and Treasure Coast
In 2021, the rate per 100,000 of children in foster care in Indian River County was 598.3 compared to Florida at 590.4. Voices for Children of Okeechobee and the Treasure Coast is a 501(c)3 nonprofit organization founded in 2013 to raise funds in support of the efforts and activities of the Florida state-funded Guardian ad Litem Program of Florida's 19th Judicial Circuit Court. Voices for Children builds relationships with the business community as well as private, public, civic, and faith-based groups to identify and develop additional resources and support. Their goal is 100% representation of abused, neglected, and abandoned children under our court's jurisdiction. In order to achieve this goal, Guardian ad Litem (GAL) volunteers serve as the eyes and the ears of the court providing firsthand accounts of the child's situation at critical points in the case through reports to the judge. The GAL gives the child a voice and helps the child find his or her own voice.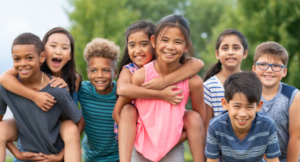 Guardian ad Litem volunteers are dedicated to serving and advocating for every child they are assigned. Each volunteer is very passionate about meeting the needs of our region's most vulnerable children. When a GAL makes a request on behalf of a child whether for a bed, bicycle, or any other number of everyday needs, Voices For Children rises to meet the need.
Voices for Children sees a great need in the local community to support enrichment activities for the betterment of children living in our community. The organization is launching an enrichment initiative that will support foster children in the Okeechobee and Treasure Coast communities. These enrichment activities will broaden children's learning experiences and help them to discover and develop personal interests and vital skills. Voices for Children is working strategically with local sport, band, art, theatre, and dance clubs and organizations to allow access to their programs for foster children.
Testimonials:
Noah is currently in Foster Care in Martin County. His Foster Mom reached out to Voices to assist with his Fall Football League. She shared that she was able to get him the essentials needed for practice but that she really needed help with the season long payment for the league. Voices was able to assist this Foster Family by paying the fee for the league. The foster mom was beyond thankful and sent pictures of Noah, doing what he loves most, playing football.
Marco is an 8th grade boy in foster care. He currently plays the trumpet at his middle school in Okeechobee, FL. His middle school was invited to play at Walt Disney World during the holidays. Voices was able to pay the fee for Marco to attend this once in a lifetime opportunity. Through the generosity of donors, the organization is able to provide enrichment activities to children that would have no other way of participating.