Year-End Gift of $100,000 Has Ripple Effect, Helps Local Individuals, Families in Need
By Jeff Pickering, President and CEO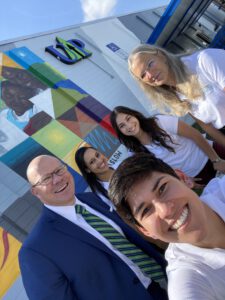 2020 was a tough year for everyone in our community.  For the 50 percent of Indian River County households who live in poverty, however, the health and financial impact of COVID-19 and the global pandemic has been devastating, leaving gaping holes in the social fabric of many parts of our community. 
In normal years, charitable organizations like the United Way of Indian River County work tirelessly to distribute resources and stitch together the safety net that keeps many people from falling into despair. This year, however, community needs stretched the capacity of our local charities, all of which deserve appreciation for stepping up and answering the call to serve. These organizations and the donors that support them make an impact on thousands of lives, however, I did not expect one act of year-end generosity to have such an impact on me.
On the same day that federal unemployment benefits expired for millions of Americans while a $900 billion aid package sat on President Trump's desk, Indian River Community Foundation received a gift of $100,000 from a client who wished to remain anonymous. The generous donation came along with a special request that the money be used quickly to help vulnerable individuals and families in our community who may be struggling and need emergency financial assistance.
Our team got busy using data and information from our online Nonprofit Search and a recently completed Community Needs Assessment to connect with organizations where these dollars could make life better, even temporarily, for several of our neighbors in need. Here are just a few examples of how this one gift will help.
It costs more than $220 million to operate all Indian River County charities, most of which serve the education, health and human services needs of our community. While $100,000 may seem like a drop in the ocean, from the stories I heard I can attest that it was a very timely, much needed drop for many of our neighbors in need.
It didn't take an act of Congress. It didn't take President Trump's signature. It took a drop of kindness that caused a ripple of generosity that I hope will swell to waves of impact in the year to come.
A philanthropic tsunami could be on its way. Time for all of us to get on board.