EPP Spotlight: Youth Guidance Mentoring Academy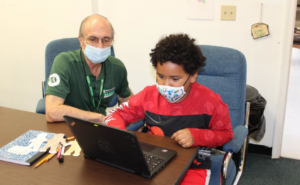 Youth Guidance Mentoring Academy is dedicated to enriching the lives of Indian River County youth through mentoring relationships that inspire trust, self-esteem and positive futures. Each year, the organization serves approximately 250 children ages 5-18 from low-income families. According to Indian River Indicators, 15.2% of households in the county do not have access to the internet. Additionally, 44% of families struggle financially to meet basic needs, such as food, child care and transportation.
The Youth Guidance Vocational Training Program aims to provide low-income children with life skills, trade skills, and self-confidence to improve their chances of living above the poverty level in their adult lives. Youth Guidance's all-day Learning Center especially helped these low income families during the COVID-19 pandemic by providing a positive place where students receive three meals a day, have access to tutors to complete virtual school, and participate in hands-on programs that emphasize life skills and vocational training.
"This past year, Jahim scored A's and B's in his virtual classes. Troy learned how to sew a pillow. Paul replaced the drive belt on a lawnmower engine. Neftali used a handheld grinder to scrape rust off metal -- and she did it better than the boys!" - Phil Barnes, Executive Director of Youth Guidance.
Youth Guidance Mentoring Academy is also a part of our Endowment Partners Program (EPP). The purpose of the EPP is to help local charities plan for their long-term sustainability by growing a permanent endowment fund. During a 12-month program, participants learn about endowments, planned giving, investment management and marketing solutions that inspire loyal donors to make planned gifts from their estates. The program is coordinated by IRCF team member Yamilet Cendejas.
To learn how to give outright contributions today or bequests and other planned gifts for future support, please see "Planned Giving: Leave a Legacy" under our "Giving" section or go to the Youth Guidance Mentoring Academy website.