Community Foundation Remembers Alma Lee Loy, Honors Alma Lee Loy Legacy Society Members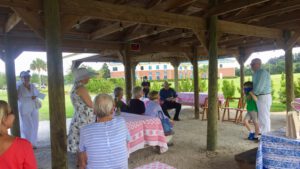 On May 3, 2021, Indian River Community Foundation invited members of their Alma Lee Loy Legacy Society and their Board of Directors to an Ice Cream Social to honor their mission and to remember the brilliant woman known as "First Lady of Vero Beach." Sean Sexton performed a poem reading to "Aunt Lee" in remembrance of Alma Lee Loy, who passed away in 2020. The event was hosted by the Laura Riding Jackson Foundation and was catered by Yami's Ice Cream.
The Alma Lee Loy Legacy Society of the Indian River Community Foundation was established in February 2011 to honor donors who entrust the Community Foundation to administer a portion of their entire philanthropic legacy plans. Members of the Legacy Society are special people who have made planned gifts today that will provide significant benefits to our community in the future.
Please click here to learn more about the Alma Lee Loy Legacy Society or contact a member of our Donor Services Team at 772.492.1407 or donorservices@ircommunityfoundation.org.